Sep 26, 2011
Cherry pecan muffins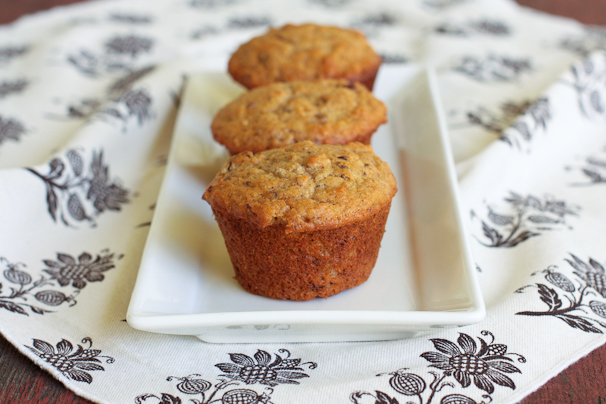 Even though I have three other muffin recipes on my blog, I can't help but add more. Especially when I make a batch as good as these.
There's just something irresistible about the combination of toasted pecans and sweet dried cherries. I ate one right out of the oven, another after they cooled, and then later in the day…oh, I don't need to explain the rest.
These are whole grain and quite low in fat and sugar, yet don't taste like "health food muffins". Like my famous (well, should be famous) banana bread, these muffins contain yogurt, which I'm convinced makes them nice and tender.
Be sure to look for dried cherries that aren't sweetened or otherwise messed-with. If you find dried tart cherries, that could make for a great variation.

Print
Cherry Pecan Muffins
1 cup whole wheat pastry flour (or white whole wheat flour)
1/2 cup oat flour
1 tablespoon baking powder
1 teaspoon baking soda
1/4 cup sugar
1/2 teaspoon cinnamon
1/3 cup organic canola oil
3/4 cup nonfat yogurt (not Greek)
1/2 cup skim milk
1 large egg
1/2 teaspoon vanilla extract
3/4 cup pecans, toasted and chopped
1/2 cup dried cherries
Heat the oven to 400 degrees.
Mix the flours, baking powder, baking soda, sugar and cinnamon in a medium bowl. In another bowl, whisk together the oil, yogurt, milk, egg and vanilla. Gently mix the wet ingredients into the dry. Fold in the pecans and cherries.
Spray a muffin pan with cooking oil (I like Spectrum's organic baking spray with flour). Fill each muffin cup about 3/4 full.
Bake for 16-18 minutes.
Makes 12 muffins