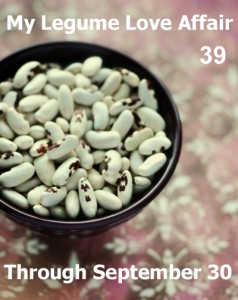 I'm thrilled to be hosting My Legume Love Affair, the wonderful recipe event founded by Susan Wolfe of The Well Seasoned Cook. I encourage you to enter, because you can win a case of beans from Hurst Beans, and Jill Norman's great book Herbs & Spices: The Cook's Reference
.
This edition of My Legume Love Affair will showcase your vegetarian recipes based on legumes. What's a legume? Well, think beans and lentils for the most part. If you really want to get technical about it, it's fresh or dried beans, lentils and pulses … and derivative products like tofu and besan (chickpea flour). Tamarind, fenugreek, carob, cashews, peanuts, etc. are also in the legume family and are fair game. But just a handful of legumes doesn't count – the legumes should be central to the dish. Got that?
To enter, send an email by September 30 to cathy (dot) elton (at) gmail.com, with the subject line "MLLA", and include:
- Your name
- A link to your recipe (and if you're not a blogger, just send the recipe – you are still eligible to win).
- A photo of your dish that is SQUARE and re-sized to 125 x 125 pixels. I will be displaying the photos in a mosaic style, so this is very important. I will gladly re-size, but if your photo is not cropped to be square, your entry won't appear!
- Your location (needed for prize eligibility)
Here are a few ground rules:
For this MLLA, recipes must be vegetarian. (I hope to get a lot of heart-healthy recipes not loaded with cream or cheese, but any vegetarian recipe qualifies!)
You may enter up to 10 recipes, but they must be re-posted as current posts on your blog. Only one will be considered for the random drawing, so sending more recipes will not increase your chances of winning.
Recipes submitted to other events are also permitted, but other events might have different rules.
In your blog post, please link to this announcement as well as Susan's host lineup
You can use the MLLA logo in your post if you'd like
The roundup of entries will be posted the first week of October.
Prizes:
Winners will be chosen by random drawing, and here are the terrific prizes:
1) Herbs and Spices: The Cook's Reference by Jill Norman. This prize is offered by Susan without influence at her expense, and she will also absorb worldwide shipping charges. F.T.C. Notice: Susan does not receive any compensation from Amazon.
2) Hurst Bean Box – A case of six bags of the winner's choice of Hurst Bean products, suitable for every diet, sponsored by Hurst Bean. (Due to shipping restrictions, this prize can only be awarded if the winner is a U.S. resident.) F.T.C. Notice: In May 2010, Susan, at her request, received two Hurst Bean complimentary products which are not available for purchase in her local markets. Susan does not generally accept free products from Hurst Bean nor is she financially compensated by them.
3) Drawing Structure – If the winner is a U.S. resident, she/he will be the recipient of both Prizes 1 and 2 above. In the event that an international winner is drawn, a second drawing will be conducted from the U.S. pool of entrants to ensure that the Hurst Prize is awarded every month. In these instances, the international winner will receive the book, and the U.S. winner will receive the Hurst Prize.
I look forward to receiving your recipes!
Cathy