Jul 26, 2011
Whole-grain vegan blueberry scones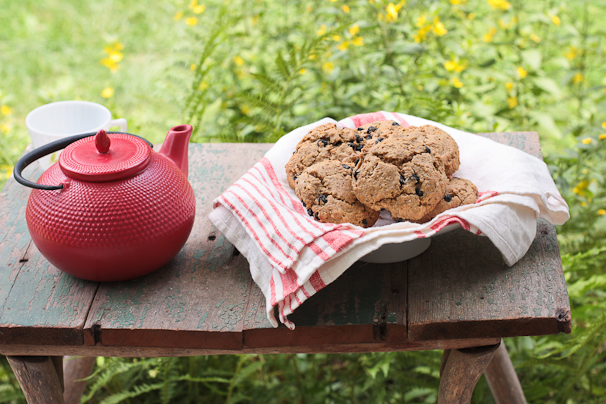 When I lived in San Francisco many years ago, I was obsessed with the huge scones from a wonderful bakery called 101 Carl. Those rich, buttery scones with currants and a sweet orange glaze probably contributed to my high cholesterol … but oh my, they were amazing.
I regularly pestered the baker to give me their recipe, and he adamantly refused. Then I found out he had an obsession of his own – with a singer who I managed at the time (it's true, I wasn't always a copywriter/food blogger). Speaking in hushed tones, we arranged a trade: a rare demo tape in exchange for the scone recipe. Eureka!
Alas, I can't make those scones today because of my @#!&#%! heart issues. But I can definitely make scones that are delicious in their own right. Today I made a vegan version with whole grains, nuts and dried blueberries – and not too much sugar or oil. I was worried they'd turn out like rocks, but that wasn't the case at all. They had a crumbly, scone-like texture right out of the oven. In fact, I recommend eating them in the first few hours, because they get very soft after being wrapped or covered up overnight.
If you want scone satisfaction without the guilt, give these a whirl.
Whole-Grain Vegan Blueberry Scones
3/4 cup whole wheat pastry flour
3/4 cup white whole wheat flour
3/4 cup oat flour
1 tablespoon baking powder
1/2 teaspoon baking soda
1/2 teaspoon salt
Pinch cinnamon
1/3 cup pecan halves, toasted and ground
1/4 cup organic canola oil or other neutral oil
2/3 cup soymilk + 1 teaspoon cider vinegar
½ teaspoon vanilla extract
¼ cup light brown sugar
grated zest of one small orange
½ cup dried blueberries
Heat the oven to 400 degrees.
Sift the flours, baking powder, baking soda, salt and cinnamon into a large bowl. (You can skip this step and just lightly mix them, but I recommend the sifting.) Gently stir in the ground pecans.
Mix the soy milk and vinegar and let stand for 5 minutes. Then whisk in the sugar, vanilla and orange zest.
Drizzle the oil over the flour mixture and mix with your fingers until a bit crumbly.
Stir in the liquids and dried blueberries, mixing just until combined.
Line a baking sheet with parchment paper. Drop ¼ cup of dough onto the sheet (I used my measuring cup) and gently shape into a round disc. Repeat with the rest of the dough, spacing the scones about 2 inches apart.
Bake for 16 minutes. Cool on a wire rack.
Makes 8 or 9 scones
My blogger friends have some great scone recipes, too:
Chocolate Cherry Sea Salt Scones from Savvy Eats
Vegan Raspberry Scones from Eating Rules
Low Fat Cherry Cardamom Scones from The Verdant Life