Jun 20, 2011
Quinoa Salad with Black Beans and Corn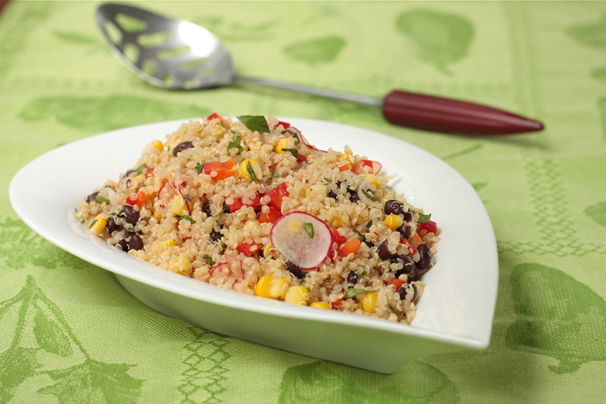 My friend Jeff (amazing artist, by the way) makes a big pot of quinoa every week and eats quinoa salads for lunch every day. It's a brilliant idea, because it's easy, nutritious, and let's not forget, cheap. So with Jeff as an inspiration, I created this Quinoa and Black Bean Salad. You can make it on Sunday, then you'll have the perfect brown-bag lunch for most of the week.
This salad is fresh and tangy, thanks to the radishes, cilantro and lime, and a tad sweet from the corn and red bell peppers. The Aleppo pepper give it the requisite kick. And of course, with both quinoa and beans, this is a protein-packed dish.
You can use this as a base recipe for all kinds of quinoa and bean salads. I could see using mango instead of corn, for a slightly sweeter variation. Or for a Mediterranean-style salad, omit the corn and use chickpeas, parsley and lemon instead of black beans, cilantro and lime. Oh, the lunch possibilities….
Quinoa and Black Bean Salad
2 cups quinoa (recommend no-rinse variety)
1 ¾ cups water
1 red bell pepper, diced small
¼ cup thinly sliced spring red onion or scallions
5 radishes, sliced paper thin using a mandoline
1½ cups fresh corn (from about 2 ears)
½ cup chopped cilantro
1 can black beans, drained and rinsed
Juice of 2 limes
2 tablespoons extra-virgin olive oil, or more to taste
¼ teaspoon salt
1 teaspoon Aleppo pepper flakes (optional but great!)
Combine the quinoa and water in a saucepan. Bring to a boil, then reduce the heat and simmer for about 12 to15 minutes, until you see the little white spiral "tail" appear on each kernel. The quinoa should be just tender, but still with a little crunch. Drain off any excess liquid.  Cool.
Blanch the corn kernels in boiling water for one minute. Drain.
Combine the quinoa with all ingredients. Adjust salt and lime juice to taste, and serve. Can be served chilled or at room temperature. Note: for leftovers,  you might want to squeeze on some more lime juice when serving, to freshen up the flavors.
Serves 6, or up to 12 if you are serving as a small side dish
P.S. Please use the nice little buttons below to share this recipe. Stumble, tweet or whatever you feel like doing!