May 23, 2011
Smoky Black Bean Soup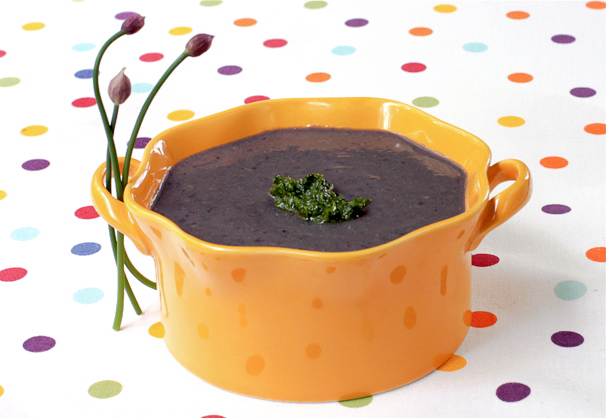 A black bean soup recipe from Eating Well caught my eye because it contained coffee. I'm a notorious coffee hater, yet the idea of using it in black bean soup was oddly appealing.
The recipe suggested using a ham hock – but as you can guess, ham hocks aren't exactly on my diet plan. So I substituted a couple of chipotle peppers to add smokiness. Between the coffee and the chipotles, this soup is earthy, smoky, and spicy. My three favorite qualities, all in one bowl!
The crowning glory of this black bean soup is the cilantro-chive pesto I made using some of the zillions of chives growing in my garden. It's so good, you'll want to use it on tofu, potatoes, tacos and anything else that could use a Southwestern or Mexican flavor boost. Here's the, uh, recipe: take a large fistful of chopped chives, one bunch of cilantro (leaves and small stems), a couple tablespoons of olive oil, the juice of a small lime and a pinch of salt. Puree in a food processor.
Smoky Black Bean Soup
Adapted from Eating Well magazine
1 pound dried black beans
2 tablespoons extra-virgin olive oil
2 medium onions, chopped
1 green bell pepper, chopped
2 stalks celery, chopped
1 jalapeño pepper, seeded and chopped
3 large cloves garlic, minced
1 tablespoon ground cumin
5 cups water
1 1/2 cups brewed coffee
2 chipotle peppers from canned chipotles in adobo (use only 1 if you're a wimp), chopped
1 bay leaf
½ teaspoon freshly ground black pepper
1 to 1½ teaspoons salt, to taste
Yogurt (regular or soy) or sour cream, for garnish
Cilantro-chive pesto, for garnish (see above)
Rinse the beans and place in a large bowl of cold water. Soak overnight, then drain.
Heat the oil in a large Dutch oven over medium heat. Add the onions, pepper, celery, jalapeño and garlic. Cook for about 10 minutes. Add the cumin and cook for 1 minute more.
Add the beans, water, coffee, chipotles and bay leaf. Bring to a boil, then reduce to a simmer and cook until beans are very tender, about 1½ hours. Remove the bay leaf. Stir in the pepper and 1 teaspoon of the salt. Add more salt if needed.
Puree half the soup in a blender or with an immersion blender until very smooth. Return to the pan with the rest of the soup and reheat. Garnish with sour cream or yogurt, and cilantro-chive pesto.
Other black bean recipes you might enjoy:
Black Bean and Sweet Potato Salad
Black Bean Chili with Butternut Squash