May 16, 2011
Pineapple Frappé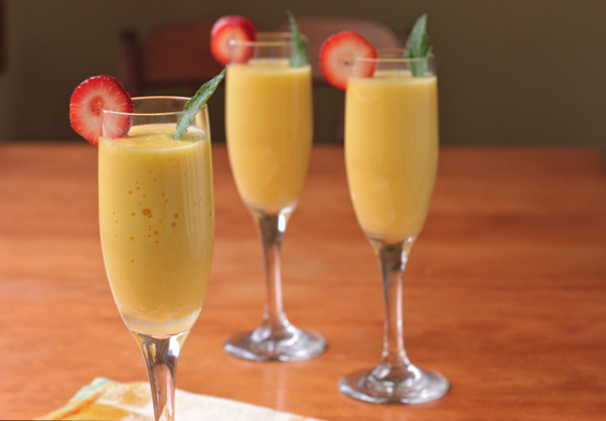 A cardiologist who's also a serious foodie is my dream come true. And that's exactly what today's guest poster Dr. Elizabeth Klodas is. A specialist in preventative cardiology, Elizabeth is also obsessed with great food, and I'm thrilled that she's not only taken a liking to my blog, she's offered to share one of her favorite recipes:
I find that many people are under the misconception that healthy food is complex to make and tastes bad. Nothing could be further from the truth! The beauty of healthy eating lies in its simplicity – and the wonderful flavors come naturally from the quality ingredients used. And cooking healthfully does not have to be expensive. With this Pineapple Frappé, you'll get 4-6 desserts out of one fresh pineapple!
I love this recipe for its sheer purity. The blended pineapple takes on the consistency of a very light c, and the flavor is sublime. The strawberries give it just enough texture to make it interesting and the flavor of strawberries complements the pineapple perfectly. I have made this in larger quantities for elegant dinner parties and backyard barbeques in the summer, and never fail to receive rave reviews and a request for the recipe.
Pineapple is an antioxidant and anti-inflammatory powerhouse that boasts:
A high vitamin C content

Phytosterols that compete with cholesterol for absorption, so they help lower cholesterol levels

Manganese, which is an important co-factor for the enzyme superoxide-dismutase, a powerful free radical scavenger.
So all in all, a great way to end a meal!
Pineapple Frappé
1 fresh pineapple, peeled, cored and cut into chunks, chilled until extremely cold (along with any juice from cutting the fruit)
10-12 ripe fresh strawberries sliced or quartered
Put the pineapple chunks in a blender (in batches if you're doing whole pineapple) and puree until very smooth (you may need to push the chunks down into the blender intermittently – with the motor off – to get the mixture to start liquefying). Pour into wine or champagne glasses, garnish with the strawberries and serve immediately.
Serves 4-6
Recipe notes from Cathy:
-I added a sprig of mint as an additional garnish. It looks nice, but it's not essential!
– Be sure serve immediately. In time, it will separate a bit, as you see in my photo.