Apr 6, 2011
Spicy root vegetable oven fries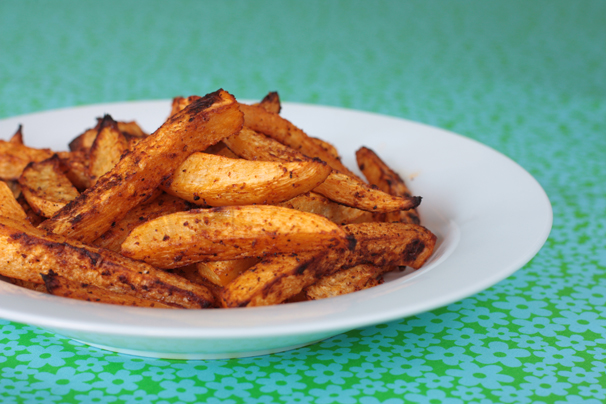 I crave potatoes. Just the smell of french fries in a restaurant makes me swoon. But of course, french fries are about the last thing I could eat, considering my heart problems. Oven-baked fries are always good, but potatoes are high on the glycemic index (which means they raise your blood sugar) so I'm trying to cut back a bit. However, these oven fries made with root vegetables are a surprisingly delicious and healthy alternative.
Here I've coated them with olive oil, chili powders and nutritional yeast, giving them a smoky flavor with loads of spiciness (you can tone them down if you'd like!). I used Gold Ball turnips, which I picked up at the Grand Army Plaza greenmarket in Brooklyn. Gold Balls are similar in flavor to rutabagas, but you can use regular purple-top turnips or rutabagas, too – all are low in calories, and high in fiber and Vitamin C. Sweet potatoes are amazing cooked this way, too.
Just so you know what to expect, these won't get crispy like potatoes – in fact they are a little, um, flaccid. But when you're jonesing for french fries, they definitely do the trick.
Spicy Root Vegetable Oven Fries
About 2 pounds turnips, rutabagas or sweet potatoes, peeled and cut into 1/2-inch spears
2 tablespoons olive oil
2 teaspoons nutritional yeast
1 teaspoon ancho chili powder or other chili powder
1/4 teaspoon chipotle chili powder, or smoked paprika
1/4 teaspoon salt
1/4 teaspoon freshly ground black pepper, preferably coarsely-ground
Heat the oven to 425 degrees.
Mix the oil and spices in a large bowl, then toss in the turnips to coat with the mixture. Lightly oil two baking sheets (or line them with parchment paper.) Spread the fries on the sheets and bake for about 35 minutes, turning once halfway through.
If you like these fries, spread the word! Facebook, Twitter, StumbleUpon – take your pick. The buttons below are at your command.