Apr 11, 2011
Blood orange olive oil cake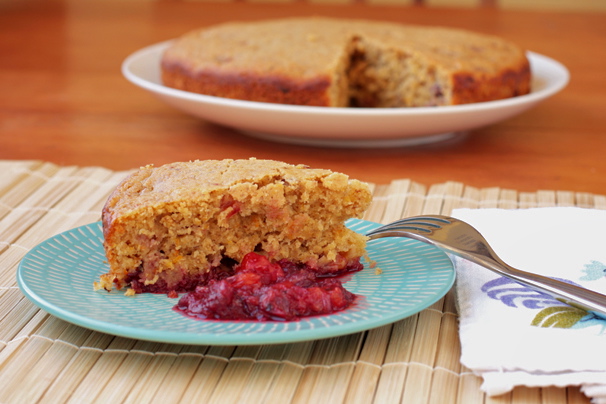 I love how recipes morph in the food blogosphere. I first saw this blood orange olive oil cake on Smitten Kitchen, and noticed that it had been (slightly) adapted from a New York Times recipe from Melissa Clark's In the Kitchen with A Good Appetite. Then I came across a version on Healthy Food for Living, where blogger Lauren made some healthy substitutions including whole wheat pastry flour instead of white flour and applesauce in place of some of the oil.
I followed Lauren's lead for the flour, but I've given the recipe a couple more twists, replacing one of the eggs with a "flax egg" to reduce the saturated fat, and adding a touch of Grand Marnier. I kept the original amount of olive oil, because that's what this cake is all about, right?
I have a feeling that the quality of your olive oil matters here. I used a fruity, unfiltered extra virgin olive oil and loved the result. The cake is quite moist, with a pleasant hint of bitterness from the blood orange zest. It's especially delicious served with the gorgeous, tangy-sweet blood orange compote on the side.
Blood Orange Olive Oil Cake
Adapted from Healthy Food for Living, via Smitten Kitchen, via In the Kitchen With A Good Appetite
3-4 blood oranges
3/4 cup sugar
1 tablespoon Grand Marnier
1/2 cup plain nonfat yogurt 
(not Greek)
2 large eggs
1 tablespoons ground flax seed, whisked vigorously with 3 tablespoons water
2/3 cup (156 ml) extra virgin olive oil
1 ¾ cups whole wheat pastry flour
1 1/2 teaspoons baking powder
1/4 teaspoon baking soda
Pinch freshly ground nutmeg
1/4 teaspoon salt
For optional blood orange compote:
3 blood oranges
2 tablespoons honey
2 teaspoons Grand Marnier
Heat the oven to 350 degrees.
Lightly oil a 9-by-5-inch loaf pan or a 9-inch springform pan.
Zest two blood oranges. Then cut off the bottom and top of each orange so you can stand them up on your cutting board. Cut away any peel and pith, following the curve of the fruit. Cut the segments out of their membranes (this is a pain), and chop into ¼-inch pieces. Place in a bowl, along with any accumulated juices.
Juice another blood orange into a measuring cup until you have ¼ cup. If you don't enough, use the optional fourth orange.
In a large bowl, whisk together the sugar, orange zest, Grand Marnier and yogurt. Whisk in the eggs, flax mixture and olive oil.
In another bowl, mix the flour, baking powder, baking soda, nutmeg and salt. Gently stir the dry ingredients into the wet ones. Fold in the orange segments. Pour the batter into a prepared pan.
Bake for 50 minutes (check at 45 if you use a springform pan) or until a knife inserted into the center comes out clean. Cool for 5 minutes, then unmold and cool to room temperature before serving. Serve with plain or with blood orange compote.
Blood orange compote:
Combine in a small saucepan: 3 blood oranges, in small pieces as in recipe above, 1-2 tablespoons honey, 2 teaspoons Grand Marnier. Simmer 5 minutes or until it reaches a consistency you like.
Tweet it, Like it StumbleUpon it.