Mar 13, 2011
Whole grain Irish soda bread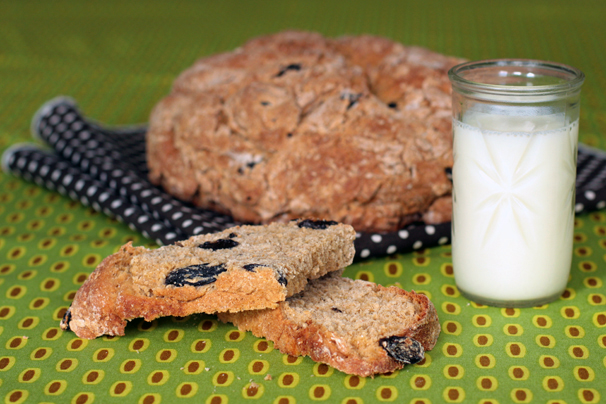 Now before you Irish people start yelling at me, yes – I know this is not an altogether traditional Irish soda bread. "Real" soda bread does not include honey or any other sweetener, for instance. But I like the hint of sweetness it adds. (Hey, at least I didn't add orange zest.)
I started out to create a 100% whole grain bread – also not traditional – and quickly decided on white whole wheat flour, which is lighter in taste but has the same nutritional value as regular whole wheat flour. I mixed in some oat flour because, well, it just seemed like the thing to do.
In one other departure, I made this bread with kefir instead of buttermilk. But that was just for the simple reason that my store was out of buttermilk (WTF?). But it turns out, kefir – a cultured milk product that's fermented with kefir grains – worked perfectly. In fact, maybe next time I'll make it with goat's milk kefir.
Needless to say, I'm thrilled with the result. The bread has a slightly darker color than your usual soda bread, but it definitely doesn't taste whole-wheat-y. The raisins and caraway seeds make it a richly-flavored bread that would be perfect for breakfast. Of course, I just ate some for a midnight snack, too.
Whole Grain Irish Soda Bread
3 1/2 cups white whole wheat flour
1 cup oat flour (or finely ground oatmeal)
1 1/2 tsp. baking soda
1 t. baking powder
1 tsp. salt
1 1/2 teaspoons caraway seeds
¾ cup raisins
2 cups lowfat buttermilk or kefir
2 tablespoons honey
Heat the oven to 375 degrees.
Mix the flours, baking soda, baking powder and salt in a large bowl. Stir in the raisins and caraway seeds.
In a separate bowl, whisk the buttermilk or kefir and the honey. Stir into the dry mixture, mixing only until the dough just comes together. Transfer to a floured surface and form into a round loaf. Don't overmix, or the bread will be tough.
Place on a lightly greased cast iron skillet or baking sheet. Score a deep X in the top of the dough. Bake for 45 minutes, or until the loaf sounds hollow when you tap the bottom. Cool before slicing.