Mar 4, 2011
Chickpea and spinach curry (chana saag)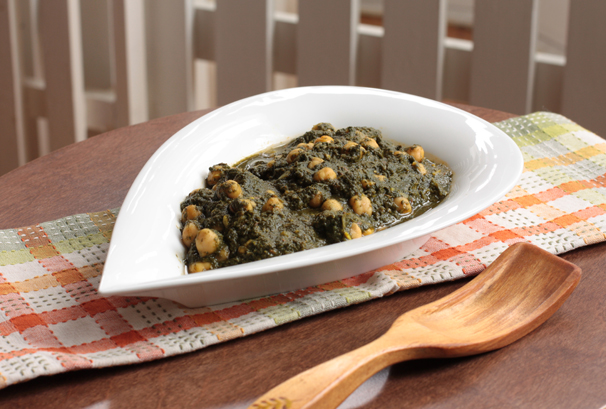 With both spinach and chickpeas, this curry is hyper-nutritious. You've got your fiber, your protein, your iron and your vitamins A and C. Chana saag is like health in a bowl! It's perfect on its own with brown basmati rice, or as a part of a larger feast. For a recent Indian-themed dinner party I served it along with seitan tikka masala, baingan bhurta (smoky eggplant) and aloo gobi (potato and cauliflower curry.)
I recommend serving raita along with this dish, as it helps cut the intensity of the spinach a bit. You can make a nice simple one with yogurt (or soy yogurt), minced cucumber, fresh mint and cumin. This recipe would also be terrific with mustard greens in place of the spinach, although you'd have to cook the greens for a minute or two longer.
It's funny to see how some people react when I tell them I like to cook Indian food. Their eyes get really big and they say something along the lines of "that must be so difficult, how did you learn?"  Well, I started by cooking from Suvir Suran's Indian Home Cooking
(which is available in my new Amazon store, right on this blog!)  It's a great book that has approachable yet authentic recipes – and none of them call for ghee, so it's heart-healthy. If you're an Indian food novice, it's a great cookbook to start with. But the truth is, once you go out and buy all the necessary spices, cooking Indian food is surprisingly simple.
Oh, and if you want the recipe for the aforementioned seitan tikka masala – which was incredible – just email me through the "contact" link above and I'll send it along. Frankly, it just wasn't pretty enough for the blog (or should I say my photo skills weren't good enough to make it presentable.) In any case, the flavor more than makes up for its homely appearance. So do give me a shout if you'd like that recipe. If you're in Brooklyn, you might even score an invitation to my next Indian feast!
Photo prop fun: I picked up the cool teardrop-shaped dish at Fishs Eddy. And if you're wondering what the fence-like thing is in the background of the photo, it's actually part of a sculpture created by my über-talented artist husband, Tim. See his work here.
Chickpea and Spinach Curry (chana saag)
1 pound baby spinach
1 or 2 small hot green chiles (such as serranos), minced
3 tablespoons organic canola or high-oleic safflower oil
1 teaspoon cumin seeds
½ teaspoon black mustard seeds
3 green cardamom seeds
1 pinch asafoetida powder
4 cloves garlic, chopped
1-inch piece ginger, minced or grated
1 medium yellow onion, finely chopped
1½ cups canned crushed tomatoes, or 3 ripe tomatoes, roughly pureed
1 teaspoon lemon juice
4 teaspoons ground coriander
2 teaspoons ground cumin powder
1 teaspoon turmeric
½ teaspoon cayenne pepper
1 teaspoon salt
2 15 ounce cans chickpeas, rinsed
2 teaspoons garam masala
Bring a pot of water to boil. Add the baby spinach and cook until tender, about 1 to 2 minutes. Drain well and squeeze out excess liquid. Place in a food processor along with the green chile, and process until smooth, adding a bit of water only as necessary to create a puree.
Heat the oil over medium-high heat in a large deep skillet or dutch oven. Add the cumin seeds, mustard seeds, cardamom and asafoetida and cook for 2 minutes. Add the onions, ginger and garlic and cook, stirring constantly, until onions start to brown around the edges, about 4-5 minutes. Add the tomatoes, lemon juice, coriander, cumin powder, turmeric and cayenne. Reduce the heat and simmer for 6-7 minutes, stirring frequently. Add the spinach puree, salt and chickpeas. Partially cover and simmer for 8-10 minutes, adding a bit of water if mixture seems too thick. Add garam masala and additional salt if needed, and serve.
If you like this recipe – or just think your spicy food-lovin' cousin might like it – please tweet it, like it or share it!