Mar 27, 2011
Baked blueberry oatmeal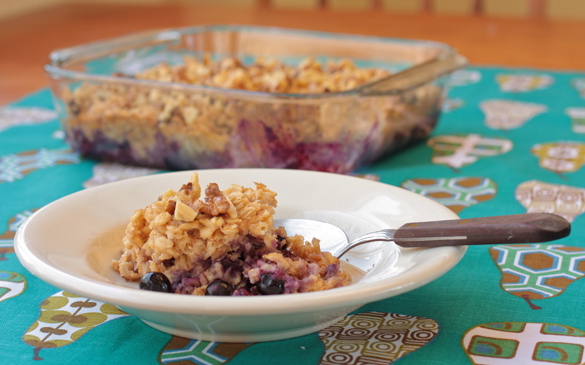 Baked oatmeal has its origins in the Amish country, but it seems to be exploding in popularity right now (in the blogosphere, anyway.) It's no wonder, since it's such a homey and satisfying breakfast.  Don't get me wrong, I love me a bowl of plain oatmeal, but this is breakfast of a higher order.
Some of the older recipes for baked oatmeal are really more like dessert, with loads of butter and nearly a cup of sugar. My version is more heart-healthy, with just a touch of oil, and applesauce & blueberries adding most of the sweetness. Still, it feels like a nice morning treat.
It's difficult to describe the texture of baked oatmeal. I guess it's a bit spongy and bread pudding-like. I put a layer of fresh blueberries on the bottom – an idea I picked up from a Seven Spoons recipe. I can't wait to try variations on this dish, maybe using apples, dried tart cherries, or different nuts and seeds. Peanut butter baked oatmeal? That just might be in my future, too.
This post is my entry into this month's Breakfast Club event, originated by Helen at Fuss Free Flavors. The theme this time is whole grains – right up my alley.
Baked Blueberry Oatmeal
2 cups old fashioned oats
½ cup unsweetened applesauce
1 large egg, beaten
1 tablespoon canola oil
1 cup nonfat milk
½ cup plain, nonfat yogurt (not Greek)
1 teaspoon cinnamon
1 teaspoon baking powder
¼ teaspoon salt
2 tablespoons turbinado sugar, or other sweetener
½ teaspoon vanilla
1 cup fresh blueberries
½ cup walnuts or pecans, chopped
Vegan variation: substitute 2 tablespoons ground flax seed whisked with ¼ cup water for the egg; substitute 1 ½ cups almond milk for the yogurt and milk.
Combine all ingredients except blueberries and walnuts in a medium bowl. Cover and refrigerate overnight.
In the morning, heat the oven to 350 degrees.
Lightly oil an 8-inch square baking dish. Place the blueberries on the bottom, and cover with the oatmeal mixture. Sprinkle the walnuts on top.
Bake, uncovered, for 35 minutes.  Slice and serve, either plain or topped with warm milk.
Serves 4-6
Sound good to you?  Please give it a shout-out on Facebook or Twitter, or submit it to StumbleUpon.  Thanks!