Jan 6, 2011
Vegan banana-oat french toast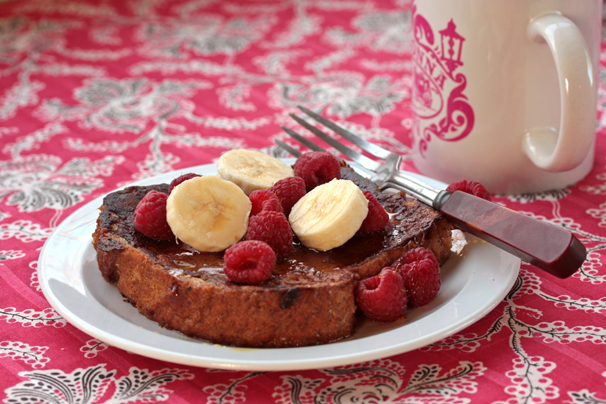 I love french toast, and it has been one of the things I've missed the most since switching to a more heart-healthy diet. For years, I've hesitated to make a lowfat or vegan version for fear that it would be disappointing. But the other day my cravings got the best of me and I gave it a shot. Many vegan french toast recipes call for tofu to give the batter body, but tofu is not something I want in my french toast. Instead, I used a combination of oats, flax and banana to create a thick, rich batter based on almond milk, and added orange juice and cinnamon to boost the flavor.
The result isn't exactly like traditional french toast, since it doesn't have the same kind of eggy crust. However, it's delicious in its own right, with the banana creating a nice caramelization on the outside. Add maple syrup  and fruit, and you've pretty much achieved breakfast nirvana.
Note: choose bread that is airy enough to absorb the liquid; if you use a very dense and heavy whole grain loaf, this won't work quite as well. And it's better to cut your own thick-ish slices here rather than using pre-sliced bread. I used an artisan whole wheat loaf that was crusty but light.
Vegan Banana-Oat French Toast
2 cups vanilla almond milk
1 tablespoon ground flax
1/4 cup quick oats
1/4 cup orange juice
1/4 teaspoon cinnamon
1/2 banana
8 slices whole-grain bread
Organic canola oil
Fresh fruit of choice and maple syrup, for topping
Combine the almond milk, flax, oats, orange juice, cinnamon and banana in a blender and process until well blended. Pour the mixture into a baking dish and soak the slices of bread for a minute or two on each side,until the liquid has completely penetrated the bread. Rub canola oil onto a griddle and heat on medium-high. (Note: if you have a nonstick griddle, do not use cooking oil spray, because the soy lecithin in it does ugly things to nonstick surfaces!) Cook until well-browned on one side, then flip and brown the other side. Serve with fruit and maple syrup.