Jan 19, 2011
Cannellini bean stew with fresh herbs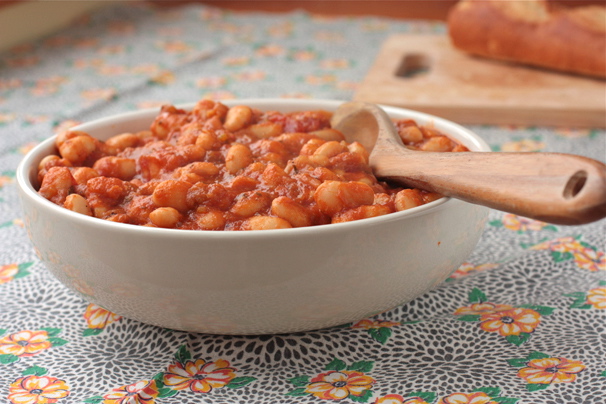 Recently, I needed a vegetarian centerpiece for an Italian-themed meal (my own birthday dinner, as a matter of fact!). Beans might not be the first thing that comes to your mind, but these cannellini beans were special enough to impress all the meat lovers at the table. It all starts with the beans you use. I'm sure regular old store-bought cannellini beans would be fine here, but Rancho Gordo's amazing Runner Cannellini beans took this dish to a higher level of deliciousness. They're huge, with a mild, earthy flavor and soft but substantial texture. I wanted to infuse the dish with the flavors of fresh herbs, so I added sage, thyme and rosemary. I'm sure fresh marjoram and Italian parsley would also be great. I also used an entire head of garlic, but the flavor is very mild when the garlic is stewed this way, so don't you even think of skimping.
The dish comes out slightly differently depending on the tomatoes you use. The can of chopped tomatoes I had on hand were imported from Italy and packed in tomato puree. That made the stew quite tomato-y, as you can see from the photo. If you use tomatoes in juice, the dish is a bit more bean-centric. I can't say which is better, because I absolutely love both.
So, how to serve these beans? For my special dinner, I served them on soft polenta, which was just about perfect. I could also envision them on a bed of cooked spinach or kale. Of course, I could happily eat a plain bowl with some crusty bread. However you eat them, they're heart-healthy comfort food to the extreme.
Cannellini Bean Stew with Fresh Herbs

1 pound large cannellini beans, soaked overnight and drained (I used Rancho Gordo Runner Cannellini beans)
4 tablespoons extra virgin olive oil
One head garlic, cloves peeled and lightly crushed
1 large stalk celery, chopped
1 large onion, chopped
1 heaping tablespoon chopped fresh sage
1 teaspoon chopped fresh rosemary
2 teaspoons chopped fresh thyme
4 cups vegetable stock (I recommend Imagine No-Chicken stock; otherwise. Use gluten-free stock if you are gluten-sensitive)
1 14-oz can chopped tomatoes in puree or juice (see note above)
Salt and pepper to taste
Preheat the oven to 350. Heat the olive oil in a large dutch oven (one with a tight-fitting lid). Saute the garlic, celery and onion for 10-12 minutes, until beginning to brown. Add the beans, herbs and stock. Bring to a boil, cover and bake for 1½ hours, or until tender (this can vary depending on your beans). Check every 20 minutes or so and if necessary, add additional water to keep the beans covered (they can get a little drier near the end of the cooking time, since you will be adding tomatoes). Add the tomatoes, salt and pepper and return to the oven, covered, for 20-30 minutes. The beans should be very tender and somewhat saucy.
Serves 8