Jan 1, 2011
5 New Year's Nutrition Resolutions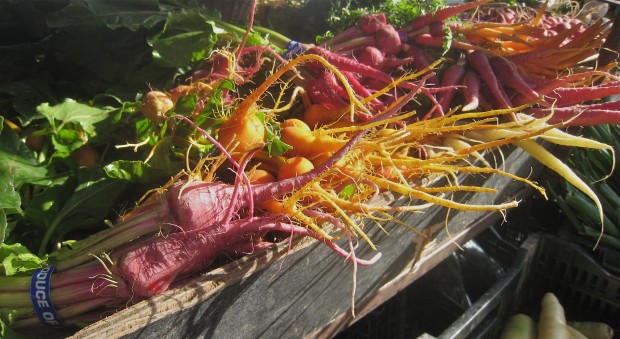 This is it, friends. The day when you resolve to make all those changes you've been putting off.  So it's the perfect time to take a good hard look at your diet and make five simple resolutions that can have a big impact on your heart health.
1. Eat more vegetables. Yeah, obvious, right? But I'm always surprised at how few vegetables most people actually eat.  A little salad with some lettuce and a couple tomatoes and cucumber slices doesn't count as a vegetable in my book. Make a resolution to eat more green vegetables like kale, broccoli, chard, cabbage and collard greens. I like to have a big serving of cooked greens on the side with whatever I'm eating for dinner each  night – even if there are already vegetables in that dish. Here are a couple of simple vegetable recipes to start you off:
Slow-cooked Vegetarian Collard Greens from Wasabimon
My own Swiss Chard with Currants, Raisins and Pine Nuts
Vegan Broccoli Slaw from I Eat Trees
2. Expand your whole grain repertoire. Whole wheat bread and oatmeal are great, but how about branching out this year? The whole grain world is large and diverse, so now's the time to get up close and familiar with quinoa, barley, farro, amaranth and the like. Try these whole grain recipes:
Farro with Broccoli and Shiitakes from Umami Girl (I would leave out the cheese, or most of it)
Millet Stuffed Golden Squashes from Nava Atlas
Easy Creamy Barley Tomato Risotto (vegan) from Oh She Glows
3. Eat your fatty acids. Wild Atlantic mackerel, rainbow trout, U.S. sardines and wild Alaskan salmon are among the fish that can help boost heart health with omega-3 fatty acids, and are also some of the more ocean-friendly fish choices. If you're a vegtarian, get your omega-3's from ground flax seeds, chia seeds, eggs, canola oil, walnuts and other sources. Dive in with these recipes:
Pomegranate Balsamic Glazed Salmon from Pink Parsley
Trout with Creamy Avocado Sauce from No Red Meat
Strawberry and Banana Smoothie with Chia Seeds from Green Lemonade
4. Use low fat dairy products and dairy substitutes. As I'm always saying (and saying and saying), you don't need loads of artery-clogging cheese and cream to make delicious dishes.  Ingredients like nonfat yogurt and almond milk can provide a rich, creamy taste that will please even the biggest dairy-heads at your table. These are some of my faves:
Vegan Almond Pudding from Not Easy Being Green
My own Vegan Lasagna Bechamel
Ginger Orange Carrot Soup with yogurt from Christie's Corner (substitute olive oil for the butter here)
5. Cut out the processed foods. Of course, a heart-healthy diet is not just what you eat, but what you don't eat. Get (re)acquainted with my Supermarket Foods to Avoid guide so it's top of mind when you hit the grocery aisles.
Of  course, these resolutions aren't just for your benefit, it's for mine, too. Contrary to popular belief, my diet is not perfect. It's pretty damn good, but I do want to eat more vegetables and explore some new whole grains this year. Hopefully that will translate into some great new healthy recipes for you!
Happy New Year and Happy Eating,
Cathy