Dec 16, 2010
Heart-Loving Holiday Recipe: Pumpkin cranberry bread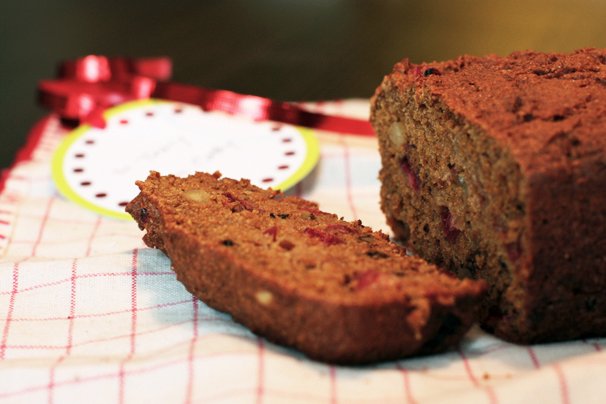 As I've said before, I only like vegan baked goods that are indistinguishable from their non-vegan counterparts. I'm not willing to "settle."  So when it came time to create a pumpkin bread for the holidays, it took a lot of experimentation until my picky nature was satisfied. I tried varying amounts of oil, and found that less was actually more here – there are just three tablespoons in the entire loaf.  The fresh cranberries took it out of the realm of regular pumpkin bread – I love the hit of tartness you get in every sweet bite. And when I added a little orange juice, the whole thing just seemed to perk up. I really think this is as moist and delicious as any traditional recipe made with butter and eggs. I dropped off a piece to my friend/taste tester Tracy, who's  never afraid to give me an honest opinion. She gave it an A+++, and  I think she was sorry I didn't leave the whole loaf with her. But alas, my husband and I had already made a serious dent in it!
Speaking of giving this bread away, it makes a nice gift for your friends or co-workers. It comes off like a decadent treat, but it's lowfat and vegan – and super simple to make. What more do you want in a holiday gift?
Pumpkin cranberry bread
2 tablespoons ground flax seeds
6 tablespoons orange juice
1/2 cup sugar
1/2 cup brown sugar
1 cup pumpkin
3 tablespoons canola oil
1 teaspoon vanilla extract
1 cup whole wheat pastry flour
2/3 cup all purpose flour
1 teaspoon baking soda
1 teaspoon cinnamon
3/4 teaspoon salt
1/2 teaspoon baking powder
1/2 teaspoon nutmeg
1/4 teaspoon cloves
3/4 cup chopped walnuts
1 cup cranberries, roughly chopped
Heat the oven to 350 degrees.
Mix pumpkin and sugars in a medium bowl. Vigorously whisk together the flax and orange juice, and add to pumpkin mixture. Stir in the vanilla and oil.
In another bowl, combine the flour, baking soda, salt and spices, then mix into the wet ingredients. Fold in the walnuts and cranberries.
Pour into loaf ban and bake for 55 minutes, or until a knife inserted in the center comes out clean.