Nov 17, 2010
Sweet potatoes with apples and bourbon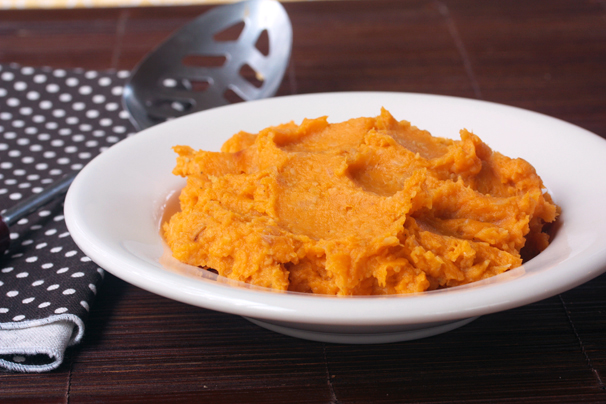 This is a simple but delicious twist on regular old mashed sweet potatoes. The small amount of bourbon gives them a kick, but the cinnamon and brown sugar will make these sweet 'taters appealing to the more traditional types at your Thanksgiving table. They might not even realize they're eating way less sugar and fat than usual!
Mashed Sweet Potatoes with Apples and Bourbon
3 ½ lbs. sweet potatoes (about four large)
2 tablespoons extra virgin olive oil
2 apples, peeled and diced
2 tablespoons brown sugar
1 tablespoon maple syrup
2 tablespoons bourbon (I think you can substitute rum for gluten-free)
1/4 teaspoon cinnamon
Pinch cayenne pepper
1/2 teaspoon salt
1/4 teaspoon black pepper
Preheat the oven to 400 degrees. Place the sweet potatoes on a baking sheet and bake for an hour or until very tender when pierced with a fork. Let cool slightly then scoop out the insides and roughly mash in a large bowl.
Heat the olive oil in a large heavy skillet. Add the apples and cook over medium-low heat for 15 minutes, stirring frequently. If the apples don't seem soft enough, add a tablespoon or two of water and cover for a minute. Add brown sugar and bourbon and cook for two minutes more. Stir in the maple syrup. Puree the apple mixture in a food processor, adding a teaspoon or two of water as necessary to achieve a puree. Stir into the sweet potatoes, add cinnamon, cayenne, salt and pepper, and mash well.
Serve immediately or reheat later in a covered baking dish, for about 15 minutes at 350 degrees. (If refrigerated, bring to room temperature before reheating.)
Serves 6-8