Nov 19, 2010
Chestnut mushroom stuffing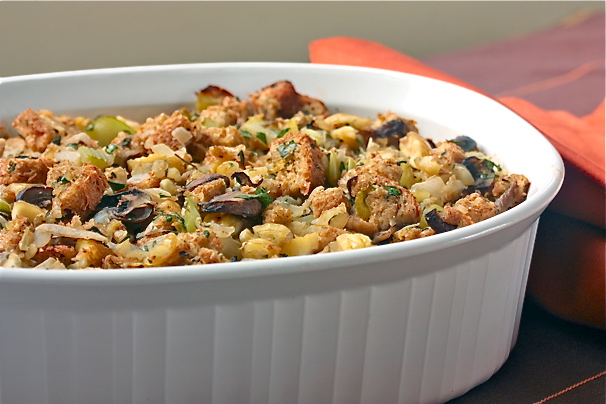 Stuffing is another one of those Thanksgiving dishes that's usually drowned in butter – but it doesn't have to be. A good quality olive oil works very well. The trick is to make sure your other ingredients are packed with flavor.
I make a different stuffing almost every year, but they all seem to be variations on this one. With whole wheat bread instead of white, and heart-healthy olive oil instead of butter, this feels almost virtuous. Chestnuts give it a richness without adding an excess of fat – they are only low fat nut – while mushrooms provide a meaty texture and more depth of flavor.
If you want to try some of my other variations on this recipe, here are some suggestions:
-Substitute apples for the fennel
– Add chicken-apple sausage, crumbled and sauteed (I use Field Roast vegetarian smoked apple sage sausages)
– Throw in some chopped dried apricots or figs
Chestnut Mushroom Stuffing
1 large loaf whole wheat bread, cubed and dried (about 10 cups)
1 tablespoon olive oil
2 medium-large yellow onions, diced
4 medium stalks celery, chopped
1 small fennel bulb, diced
1 pound mushrooms, sliced (mix of cremini, shiitake and oytster)
1 1/2 cups chestnuts (roasted from 1 lb. fresh, or use jarred chestnuts), crumbled
2 teaspoons fresh thyme
3 tablespoons fresh sage
¼ cup chopped flat leaf parsley
3 tablespoons olive oil
2 large eggs, lightly beaten (vegans, use a substitute such as ground flax seed mixed with water)
1½ to 2 cups vegetable broth (recommend Imagine brand No-Chicken Broth here)
Salt and pepper to taste
Heat the oven to 350 degrees.
Heat the olive oil in a large pot. Add the onions, celery and fennel, and sauté for 10 minutes. Add the mushrooms and cook for 5 minutes more.  Turn off heat and add the bread, chestnuts, herbs, olive oil and eggs. Mix well, then add broth until the stuffing is quite moist but not overly soggy. Add salt and pepper if you'd like.
Place in an oiled casserole dish, cover with foil and bake for 30 minutes. Uncover and bake 10 minutes longer, until stuffing is crusty on top.