Nov 5, 2010
Mashed potatoes and celery root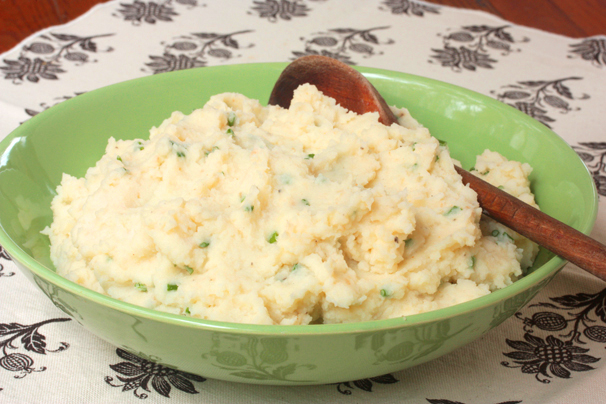 The typical holiday mashed potato recipe contains nearly a stick of butter. They're delicious, but way over my saturated fat limit. And that's fine, because you can make great mashed potatoes without any butter at all. I use lowfat buttermilk or soy milk for creaminess, along with heart-healthy olive oil. The quality of the olive oil makes a big difference here, so use the best you can get your hands on.
I've added celery root, which makes these potatoes quite a bit lower in carbs, and adds a subtle celery undertone. Garlic and chives kick up the flavor even more. But these are very flexible. If you don't have celery root, just add a few more potatoes. If you don't want to use garlic or chives, no problem. And if you want to try a unique tangy variation, try nonfat greek yogurt in place of the milk. The result reminds me of a hot potato salad. Delicious.
When I eat these potatoes as part of the Thanksgiving meal, I feel perfectly satisfied, but not overstuffed. So start a new holiday tradition: guilt-free potatoes!
Mashed Potatoes and Celery Root
2 1/2pounds russet potatoes, peeled and cut into large chunks
1 large celery root (about 1¼ pounds), peeled and cut into 1-inch cubes
3 cloves garlic, peeled
¼ cup extra virgin olive oil
Approx. 1/2 cup milk of choice: lowfat buttermilk, fat-free milk, evaporated skim milk, soy milk or unsweetened plain almond milk
2 tablespoons minced fresh chives
½ teaspoon salt, or more to taste
Freshly ground black pepper to taste
Place the celery root and potatoes in a large pot and cover well with water. Bring to a boil, then reduce heat and simmer until vegetables are all tender, about 20 minutes. Drain, return to pan and shake over high heat for 30 seconds to evaporate the moisture. Put through a ricer (or mash with a potato masher). Continue to mash as you add the oil, then the milk, adding the liquid gradually until you get the texture you prefer. Stir in chives, salt and pepper.