Nov 22, 2010
Thanksgiving main dishes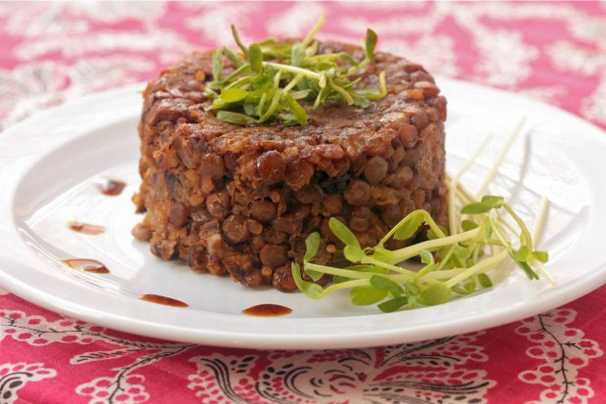 If you Google "Thankgiving vegetarian main dish," you find a lot of recipes like squash stuffed with rice,  mushroom turnovers and pumpkin risotto. All delicious, but I tend to prefer dishes that include some protein so the vegetarians at the table don't feel like they're getting just another side dish. The vegetarian recipes below feature beans, tempeh or quinoa, so they all fit the bill.
As for the first two recipes, you might think lentil loaf sounds like a hippy-dippy dish from the '70s … and you're right. But cook it in individual ramekins, as shown in the photo, and you suddenly have fancy lentil timbales. Pour on my gravy and your vegetarians will be happy as clams (or as kale, I should say.) The other vegetarian options here are delicious stews and casseroles with seasonal ingredients.
Having said all that, I do eat turkey on Thanksgiving – so I'm also including a great recipe here for turkey. Unlike most, the turkey isn't slathered with butter, but rather a bit of heart-healthy oil and fresh herbs. Then it's stuffed with shallots and apples and roasted. Crazy good.
Pumpkin, White Bean and Kale Ragout
Tempeh and Wild Mushroom Fricassee
Baked Pumpkin with Root Vegetable Stew (with chickpeas)
Vegetarian Shepherd's Pie (I'd substitute olive oil for the butter here)