Nov 23, 2010
Low fat pumpkin pie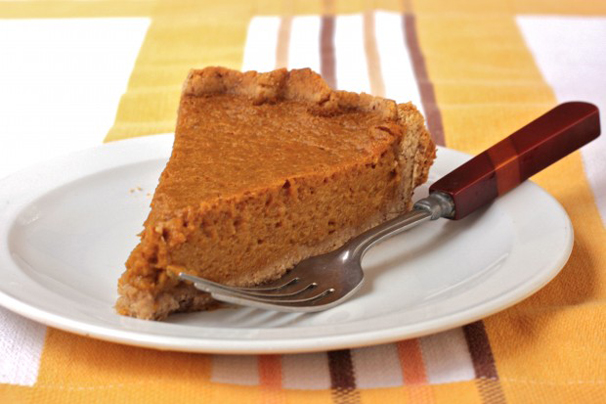 Nothing's more traditional than pumpkin pie for a Thanksgiving dessert, so I just had to include one in this series. For my more heart-healthy version, beaten egg whites make for a wonderfully light and fluffy filling, and almond milk stands in for the usual half & half or evaporated milk. The crust, adapted from this recipe, is made from whole wheat pastry flour, ground pecans and oats. I've had people tell me this is the best pumpkin pie they've ever eaten, and I have to agree.
Of course, pumpkin pie isn't everyone's favorite, so scroll down to see a few more of my recommended heart-healthy Thanksgiving dessert suggestions.
This is my last entry in the Healthy Thanksgiving Series. Now the holiday is upon us, so it's time for me to cook all over again. I'm probably going to make totally different dishes than the ones I've posted here, because my husband and I have been eating all of this Thanksgiving food for weeks now. Oh, the sacrifices I make for you, dear readers!
Enjoy your holiday, and if you make any of my recipes, please report back. Happy cooking – and eating.
Fluffy Low Fat Pumpkin Pie
Crust:
3/4 cup pecan pieces, lightly toasted
3/4 cup oat flour (or finely grind 3/4 cup oats in a food processor)
3/4 cup whole wheat pastry flour
1/2 teaspoon cinnamon
pinch salt
1/4 cup organic canola oil
3 tablespoons maple syrup
2 tablespoons skim milk
Filling:
1 can organic pumpkin
2/3 cup brown sugar
1 tablespoon tapioca flour or cornstarch
3/4 teaspoon cinnamon
1/2 teaspoon ginger
1/2 teaspoon salt
pinch ground cloves
1 egg yolk
1 cup unsweetened plain almond milk
2 egg whites
Heat oven to 375 degrees.
Combine the pecans, flours, cinnamon and salt in a food processor and process until ground. In a medium bowl, whisk the oil and maple syrup. Add the skim milk but do not stir. Mix in the dry ingredients with a fork until combined. Press into a 9-inch pie pan (not deep dish), making sure the crust extends all the way to the top, even a bit beyond. Then crimp the edges with your fingers. Bake for 10 minutes, then remove to cool.
Combine the filling ingredients, except egg whites, in a bowl and whisk until smooth. In a separate bowl, beat the egg whites with an electric mixer until soft peaks form. Gently fold the whites into the filling mixture, repeatedly folding until the egg whites are fully incorporated. Pour the filling into the partially-baked crust. Return to the oven and bake about 45 minutes, until the center is just set. The middle should still jiggle like jello, but should not slosh around like liquid.  Cool well before serving.
Other Thanksgiving dessert ideas for you:
Glazed Chocolate Pumpkin Bundt Cake
And of course, my Apple Pie (to make it more seasonal, use an extra apple and substitute one cup of cranberries for the two cups of raspberries used here)