Oct 11, 2010
Homemade applesauce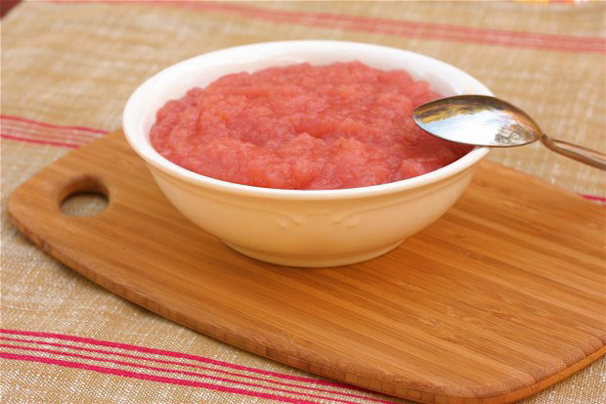 Whenever I make homemade applesauce, I wonder why I don't do it more often. It's so easy, and so much better than anything you can buy. Here I've used cider and a bit of maple syrup for a touch of sweetness – but if you are using sweet apples, you might want to leave out the maple syrup.
A food mill is the perfect tool for making applesauce (and tomato sauce in the summer!) But if you don't have one, just peel the apples before cooking, then mash them to your desired consistency. You won't get the nice rosy color without the peels, but it will still be delicious.
Applesauce
5 pounds apples, cored and cut into chunks (unpeeled if using a food mill)
1 cup apple cider
2 tablespoons maple syrup
2 cinnamon sticks
4 whole cloves
3 or 4 long slices of lemon zest
Pinch salt
1/8 to 1/4 teaspoon ground cinnamon
Pinch freshly ground nutmeg
Put apples, cider, maple syrup, cinnamon sticks, cloves, lemon zest and salt in a large pot and bring to a boil. Cover and simmer until apples break down, about 15 or 20 minutes. Remove cinnamon and cloves. Put through a food mill fitted with a medium disk. Add ground cinnamon and nutmeg to taste. Serve warm or cold.
Serves 8-10