Oct 18, 2010
Braised red cabbage with apples and beer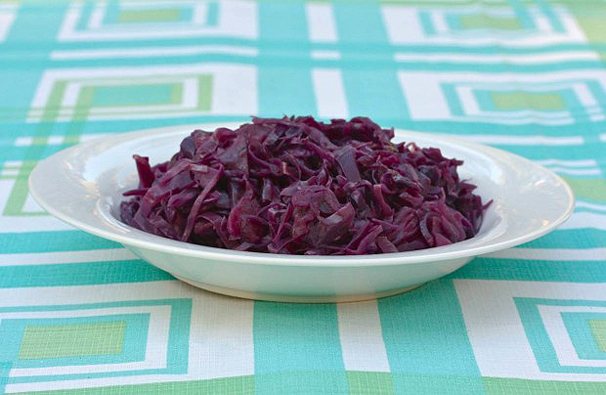 We had about eight red cabbages growing in our garden, and I've made the same thing with every one so far: braised red cabbage with apples.  I just can't get enough of it.  Sometimes I use red wine as the braising liquid but this time I used beer and it was even better. In Germany they'd serve this with sausages, but the closest I've come is some vegetarian smoked apple sausage (Field Roast – the only brand I like, and the least processed.)
Some optional additions you might like include 1 teaspoon of caraway seeds (add when you add the cabbage), 1 or 2 tablespoons brown sugar (add with the apples), or 1 tablespoon whole grain mustard (add at the end.)
By the way, I have two more cabbages still in the ground. Let me know if you have any recipe suggestions that don't involve apples and alcohol!
Braised Red Cabbage with Apples and Beer
2 tablespoons extra virgin olive oil
1 medium red cabbage, very thinly sliced (about 6-7 cups)
2 medium apples, peeled, cored and sliced
1 medium-large yellow onion, thinly sliced into half moons
1 12-ounce bottle beer (I used an Oktoberfest–style, but any amber will do. Use gluten-free beer if you prefer)
¼ cup balsamic vinegar
Pinch freshly ground nutmeg
Pinch allspice
1 bay leaf
Salt and pepper to taste
Heat the oil in a large pot and sauté the onion until very soft, about 8 minutes. Add the apples and cook another 2-3 minutes. Add cabbage and cook another 2-3 minutes. Add remaining ingredients, cover and simmer until cabbage is very tender, about 50 minutes to one hour. Remove bay leaf, adjust seasoning to taste, and serve warm.
Serves 4