Sep 20, 2010
Spicy kale chips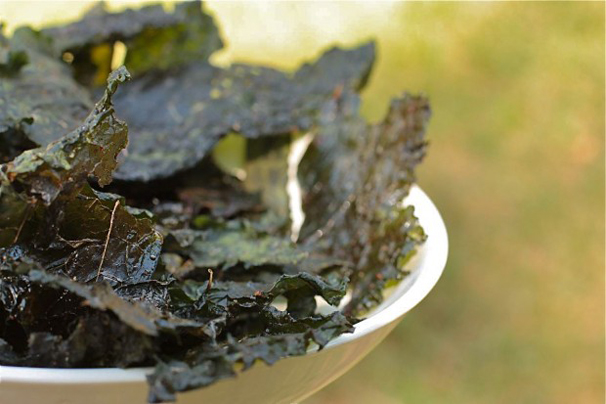 There are dozens of recipes for kale chips on the internet  – so why hadn't I tried them yet?  As much as I love kale, I guess I was a little skeptical. Would they really taste like chips, or would they just taste like dried up kale?
Well, I finally got around to making them, and I was delighted to find that my doubts were way off-base. Kale chips are as crunchy and delicious as people say –in fact, it's hard to stop eating them.  No wonder some bloggers have dubbed them "kale crack."  I made mine with Tabasco sauce and chili powder – spicy kale crack! Whatever you call it, this is one addiction that you won't have to go into rehab for.
If you can't handle the heat, you can leave out the Tabasco and other spices. The chips are great with just olive oil and salt, too.  I have a feeling that kale chips would be an ingenious way to get kids (and adult kale haters, like my friend Mark) to eat their greens. Watch out Mark, I'm coming over to try out my theory on you!
Spicy Kale Chips
1 large bunch kale (I used lacinato, aka dinosaur kale), stems and center ribs removed, leaves torn into large pieces
2 1/2 teaspoons extra virgin olive oil
1/4 teaspoon salt
1/4 teaspoon chili powder (I used New Mexico chili powder)
1/8 teaspoon cumin
1/2 teaspoon Tabasco sauce
1/8 teaspoon freshly ground black pepper
Heat the oven to 300 degrees.
Mix kale and other ingredients in a large bowl (note: kale must be bone-dry). Massage lightly with your hands to make sure the leaves are coated.
Place in a single layer on two large baking sheets, and bake for about 20-30 minutes or until crisp.