Sep 10, 2010
Black-eyed pea and roasted sweet potato salad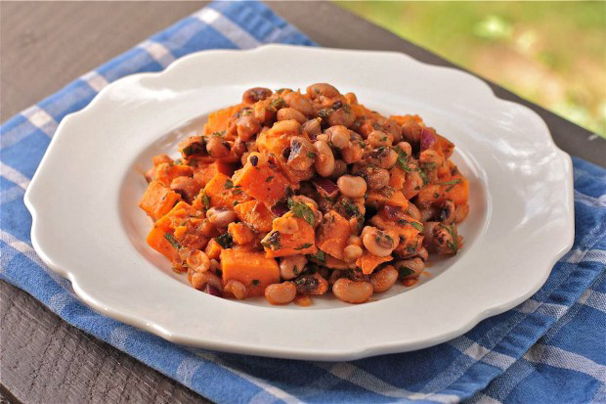 I'm trying to be more spontaneous in the kitchen, and this black eyed pea and sweet potato salad was a happy result of my experimentation.
I needed a dish to bring to a Labor Day BBQ shindig in the Catskills. I started out with the idea of making Texas Caviar – a dish where black-eyed peas are marinated in a vinaigrette with hot peppers and onions, with some versions also including corn and/or tomatoes. It's delicious, but like many bean salads, tends to be extremely oily. Now I'm not opposed to oil (as long as it's a heart-healthy type), but I find oily bean salads a little one-note, and I end up feeling kind of gross after eating a normal-sized portion. So I wanted to come up with a black-eyed pea salad that was less oily, but not dry.
I spied an almost overripe tomato on the counter and on a whim threw it into the food processor along with my vinaigrette ingredients. Stuck my finger in (without the blade running, don't worry) and it was pretty yummy. But I wanted to spice things up, so I ran out to the garden and yanked a jalapeno off the vine. Into the food processor it went, along with a bit of chili powder, and my tomato-chile vinaigrette was born.
But I wasn't done experimenting. I decided to go a big step further away from Texas Caviar by adding roasted sweet potatoes for another layer of flavor. Bingo! The completed salad was great – and it was good to be able to eat it without feeling weighed down by tons of oil.
Fans of my black bean and sweet potato salad – seriously, I have a few readers who make this every single week – should try this one for a nice change of pace.
Black-Eyed Pea and Roasted Sweet Potato Salad with Tomato-Chile Vinaigrette
1 large ripe tomato, peeled seeded and chopped (about 1 cup)
1 clove garlic
Juice of 1 lime
1 jalapeno pepper, seeded and roughly chopped
1/3 cup extra virgin olive oil
1/2 teaspoon chili powder (ancho if you have it)
1 teaspoon sugar
1/2 teaspoon salt
1/4 teaspoon freshly ground black pepper
5 cups peeled, cubed sweet potatoes (about 2 pounds of sweet potatoes)
1 1/2 tablespoons extra virgin olive oil
3 cups black-eyed peas (cooked from 1 1/4 cups dried, or use two cans, rinsed and drained)
1/2 cup chopped cilantro
1/2 cup minced red onion
1 teaspoon lime zest
Heat the oven to 400 degrees.
Put the first 9 ingredients (through black pepper) into a food processor and process until smooth.
Combine the sweet potatoes with 1 1/2 tablespoons of olive oil and spread in a single layer on a large baking sheet – or use two sheets if necessary. Shake a little salt on the potatoes and roast for about 25-30 minutes, or until just tender and starting to brown. Remove from the pan and set aside to cool.
Combine the sweet potatoes, black-eyed peas, onion, cilantro, lime zest and dressing.  It might seem like a lot of dressing, but I found that it gets absorbed. If you'd like, start with less and then add more as necessary. Season to taste with additional salt and/or lime juice as you see fit.
Serves 8-10