Aug 10, 2010
Red lentil dal with rhubarb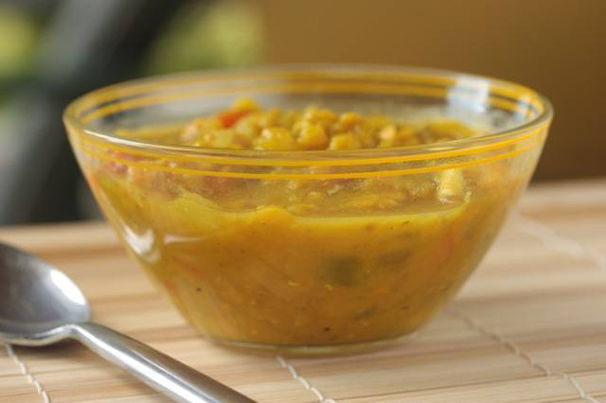 Rhubarb season usually ends in June 'round these parts, but for some reason the rhubarb survived in my garden until very recently.  Sadly, there wasn't enough to make a pie. But I found a recipe for  red lentils with rhubarb in Mark Bittman's How to Cook Everything Vegetarian
.  I've changed the spices a bit and added onions and carrots, but give Mr. Bittman total credit for the idea of adding rhubarb – something that would have never crossed my mind!  The rhubarb is delicious here, but fairly subtle, so don't go worrying that it's going to be too sour.  Served on brown rice with a dollop of nonfat yogurt, this makes a superb – and very nutritious – supper.
If rhubarb isn't still in season is over where you live, you can leave it out and you'll still have a nice simple dal.  Or think of another tangy addition of your own – tomatillos, anyone?
Red Lentil Dal with Rhubarb
2 cups dried red lentils, rinsed
2 tablespoons canola oil
1 teaspoon mustard seeds
½ teaspoon cumin seeds
1" piece ginger, peeled and minced
1 fresh jalapeno or Serrano pepper, minced
2 large garlic cloves, minced
1 teaspoon ground coriander
1 teaspoon turmeric
½ teaspoon black pepper
Small pinch cinnamon
1 medium onion, diced
2 small carrots, diced (about 2/3 c.)
3 stalks rhubarb, diced (about 1 ½ cups)
½ teaspoon salt
Heat the oil over medium heat in a dutch oven or large saucepan. Add the mustard and cumin seeds and cook for 1 minute. Add the ginger, hot pepper, garlic, coriander, turmeric, pepper and cinnamon, and cook for 1 minute more. Add the onions and carrots and cook for 3-4 minutes, stirring constantly.
Add the lentils, rhubarb and 6 cups of water. Bring to a boil, reduce heat and simmer until lentils and vegetables are tender, about 20-25 minutes. Add salt to taste halfway through cooking time. If the dal gets too thick, add a little extra water.
Serves 6