Aug 23, 2010
Ratatouille with grilled eggplant and zucchini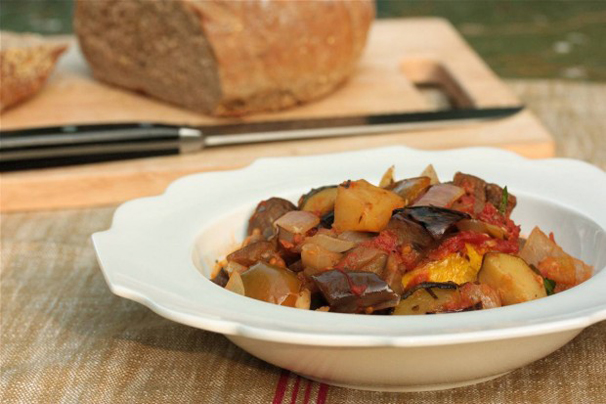 My friend Louise absolutely loves ratatouille.  "Rat," she calls it. I've never seen anyone get so excited about a bowl of vegetables! So I'm sorry that she couldn't be there for this slightly tricked-out version made with grilled zucchini and eggplant. I could have grilled the onions and peppers too, but I didn't want the smoky taste to overwhelm the dish.
Packed with nothing but vegetables, this stuff is pretty damn healthy. To complete the meal I'd recommend pairing it with a whole grain like brown rice and maybe a healthy-ish sausage of your choice. (Although I've been known to eat it with nothing but a hunk of crusty bread.)
Anyway, this version is a nice change of pace from the usual ratatouille. In fact, when I tasted the finished dish, I got nearly as fired up as Louise gets about Rat. And trust me, that's saying a lot.
Ratatouille with Grilled Eggplant and Zucchini
4 tablespoons extra virgin olive oil, divided
2 pounds eggplant, chopped (salt it if it's not young, super fresh eggplant)
3 medium zucchini (or use a mixture of zucchini and yellow squash)
1 large onion, chopped
4 cloves garlic, minced
2 green bell peppers, chopped
4-5 large very ripe tomatoes, peeled seeded and chopped
1 bay leaf
2 teaspoons fresh thyme
2 tablespoons chopped fresh flat-leaf parsley
Salt
Freshly ground black pepper
1/4 cup chopped fresh basil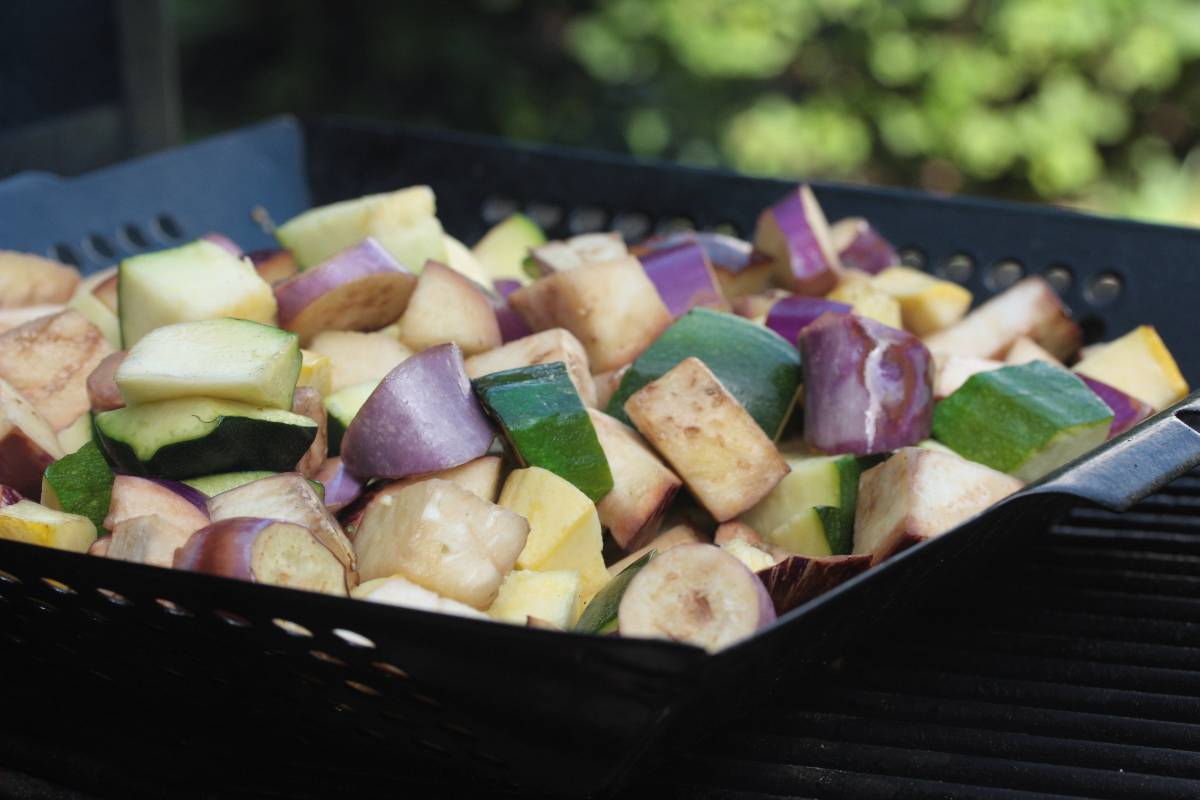 Start a fire in your grill. Combine the eggplant and zucchini with 1 tablespoon of oil. Grill in a vegetable basket, stirring, for about 8 minutes or until the vegetables are about halfway cooked. Remove to a plate and hold.
Heat 3 tablespoons of oil in a large pot or dutch oven. Saute the onions for 8-10 minutes, then add the garlic and peppers and cook 5 minutes more. Add the tomatoes, bay leaf, thyme and parsley, along with the grilled vegetables. Season to taste with salt and pepper. Simmer, partially covered, for 45 minutes or until the vegetables are quite soft. Add the fresh basil and serve.
Serves 6