Aug 12, 2010
Blueberry buckle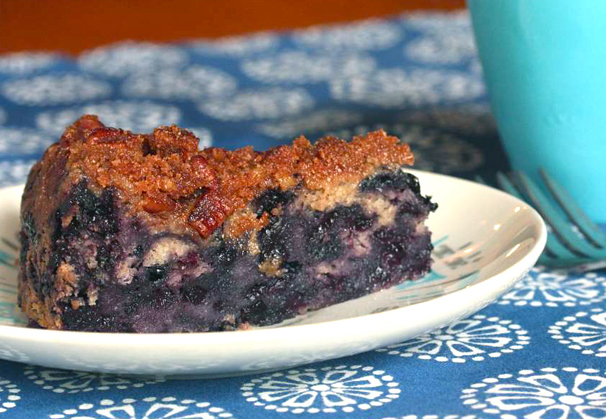 Do you think it's a coincidence that my Maine vacation coincided with the beginning of wild blueberry season up there?  Of course not!  My travel companions were buzzing for weeks about the prospect of blueberry pie, which I promptly made them once we arrived at our lake house.  But I didn't stop there – the abundance of tiny wild blueberries was just too tempting.  When I announced that I was going to make blueberry buckle next, I got some slightly confused looks that said "What the hell is a buckle?"
Some people think a buckle is similar to a cobbler or crumble. But it's really something quite different: a cake with berries in the batter, topped with a streusel topping.  Buckles are popular in Texas and New England, but its origins are debated.  A Mainer I met on the shore of Tunk Lake told me it originated in this state. So who am I to question him?
I first had buckle as a kid, but had forgotten all about it until I saw this recipe in Vegetarian Times.  Astonishingly, it's vegan – it certainly doesn't seem like it. The main change I made was adding pecans to the topping – an essential improvement, if you ask me.
You have one important choice to make with this recipe: If you use the full 4 cups of berries specified, you'll end up with a buckle that's almost bread pudding-like (as in the photo.)  Use 2 cups and you have a blueberry-laced coffee cake.  I like the cake-like version, but my gang of fellow vacationers went nuts for the texture of the former. Which one is more authentic?  I have no idea.  After all, I'm no buckle authority … but I'm working on it.
Blueberry Buckle
Topping:
3/4 c. whole-wheat pastry flour
1/3 c. sugar
1 t. cinnamon
1/2 t. baking powder
1/4 t. salt
4 T. canola oil
4 T. chopped toasted pecans
Cake:
1 c. whole wheat pastry flour
1 c. all-purpose flour
2 t. baking powder
3/4 c. maple syrup
1/3 c. canola oil
2 t. vanilla extract
1/2 t. salt
2-4 c. fresh blueberries (see above)
Heat the oven to 350 degrees.
Grease 9-inch springform pan and wrap bottom with foil. (If you use the smaller quantity of berries, you can bake this in an 8″ square baking pan instead.)
To make the topping, combine flour, sugar, cinnamon, baking powder and salt.  Add oil gradually and mix with your fingers until crumbly. Toss in nuts and set aside. Meanwhile, mix flours, salt and baking powder in a large bowl.
In another bowl, whisk syrup, oil and vanilla. Stir into the flour mixture and mix briefly. Fold in the berries.
Spread the batter in the pan and sprinkle on the topping. Bake 55 to 65 minutes, or until a knife inserted in center comes out clean (it will take the longer time if you've used 4 cups of berries.)  Cool 30 minutes unmold, and dig in.