Aug 18, 2010
Beet orange and arugula salad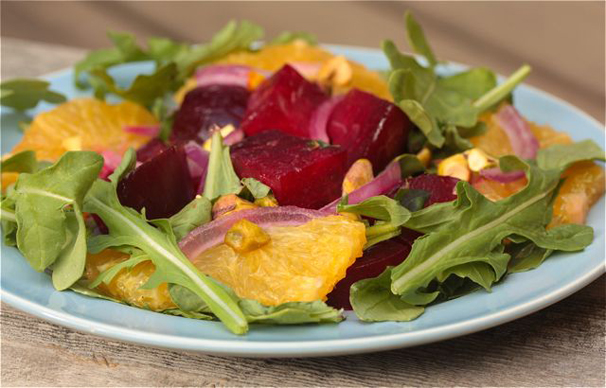 Just a quick post to tip you off to one of my favorite salads. I love how the earthy beets and sweet oranges play off the peppery arugula. I've suggested pistachio nuts as an addition here, but toasted almonds or walnuts would be equally delicious.
I used beets straight from my garden, which did make a difference.  Quite a few of my dinner companions asked, "Where did you get these beets?"  From the ground, of course!
Beet, Orange and Arugula Salad
4 medium beets
2 large navel oranges
2 tablespoons balsamic vinegar
1 teaspoon Dijon mustard
1 small shallot, minced (optional)
1 clove garlic, finely minced
1/4 cup extra virgin olive oil
Salt and pepper to taste
5-ounce package baby arugula (or two bunches arugula)
1/3 cup unsalted shelled pistachio nuts
1 small red onion, halved lengthwise sliced into thin half moons
Heat the oven to 400 degrees.
Cut off the stems and wrap each beet tightly in foil. Place on a baking sheet and bake about an hour or until the beets feel tender when pierced with a knife. Let them cool for 10-15 minutes, then chop off the top of the beets and slip off the peels. Chop into 1-inch pieces.
Cut the top and bottom off the oranges and stand them upright. Cut off the peel, following the contour of the orange and removing as much of the white pith as possible. Slice crosswise into 1/4-inch-thick slices, then halve or quarter each slice.
Mix the vinegar, mustard, garlic and shallots in a bowl, then gradually whisk in the olive oil.  Season with salt and pepper to taste. Just before serving, toss the arugula with the dressing and divide between six plates. Top each salad with the chopped beets, oranges, red onion and pistachio nuts.
Serves 6