Jul 6, 2010
Vegetarian pozole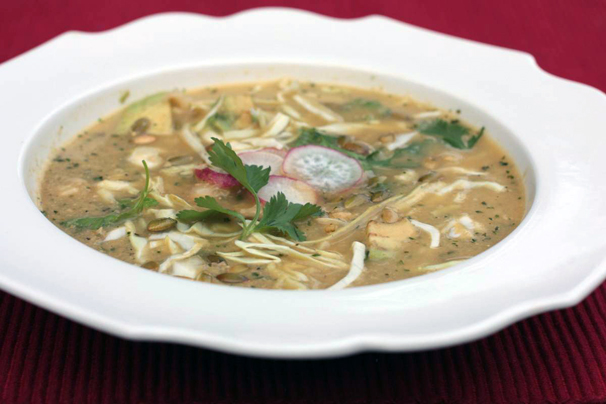 I can't count how many bowls of porkalicious pozole I consumed during my decade in San Francisco.  Now, my arteries prevent me from indulging in that traditional dish. I was skeptical about vegetarian pozole, but after one taste of this version I created, it has rocketed to the top of my list. It gives me that same old pozole thrill!  This is a great party dish, because people enjoy the process of adding all the essential toppings: cilantro, thinly sliced radishes, cabbage, roasted pepitas, avocado and lime. The mix of flavors and textures is simply spectacular.
I started with Rancho Gordo's recipe and branched out from there. The major enhancement was ground pepitas, which give the dish much more body and depth of flavor. For the hominy, I used RG's "Prepared Posole," which is not difficult to cook, but takes some time.  You can substitute canned hominy if you're in a rush, although you won't get the same intense corn flavor. Trust me, making pozole from scratch is well worth the effort.
Vegetarian Pozole
1 cup whole dried hominy
2/3 cup roasted, lightly salted pepitas (pumpkin seeds) – half reserved for garnish
1 medium red onion, thickly sliced
1 serrano pepper, stemmed
3 cloves garlic, peeled
12 tomatillos, papery skins removed, rinsed
1 tablespoon olive oil
1 teaspoon ground cumin
1 teaspoon dried Mexican oregano
1 cup cilantro leaves
1 4-ounce can fire roasted green chiles (Ortega makes these, or use Hatch chiles if you can find them)
4-5 cups vegetable broth (use gluten-free broth if you are gluten-sensitive)
Salt to taste
For garnish:
cilantro
thinly sliced radishes
cubed avocado
dried Mexican oregano
Roasted pepitas
Very thinly sliced green cabbage
Lime Wedges
Place hominy in a large bowl and cover generously with water.  Soak for 6 hours or overnight, then drain. Place it in a saucepan with water to cover generously, and cook according to the package directions (for Rancho Gordo's hominy, bring to a boil, reduce heat and simmer, partially covered, until tender, about 2 1/2 to 3 hours.)  Season with a little salt and cool in the liquid.
Bring a pot of water to boil in a saucepan and add the tomatillos.  Simmer until tender, 10-12 minutes. Drain and set aside.
On a hot, dry skillet (cast iron works best), roast the onion, serrano peppers and garlic, turning occasionally until they are nicely charred, about 15 minutes. Remove to a plate to cool.
In the same skillet, toast the ground cumin and the oregano over medium-low heat for one minute, then add the olive oil and cook for an additional minute.
Put the oil/spice mixture, the charred vegetables, 2 cups broth, cilantro, canned green chiles, prepared tomatillos and half the pepitas in a food processor and puree until smooth.
Pour the mixture into a large dutch oven. Add 2 cups additional broth, and simmer for 10 minutes. Add an additional cup of broth if the mixture seems too thick. Season with salt to taste. Add the drained cooked hominy, return to a simmer and serve. Add garnishes to individual bowls.
Serves 4-6