Jul 1, 2010
Swiss chard with onions, currants and pine nuts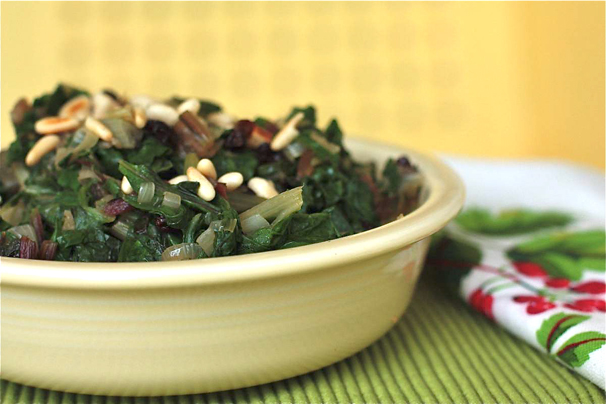 First the arugula, now the Swiss chard.  The bugs are having a field day in my garden!  Luckily, I went overboard in planting chard, so between my ten or so plants, I still came away with a big bagful this week.  The leaves are all hole-y, but who cares.  I decided to cook up the greens with some spring onions, garlic, toasted pine nuts and currants.
Is it Italian? Spanish?  I'm not quite sure – there are variations on this dish all over the Mediterranean.  All I know is that it's one of the most delicious ways to eat chard.  It makes a perfect side dish for a pasta dish such as my spaghetti with vegan bolognese sauce, or as a topping for bruschetta.  I would even eat this for breakfast in an egg white omelet. But I'm weird that way.
I'm amazed at how many people tell me they have never eaten Swiss chard.  That's a cryin' shame, because it's one of the most intensely delicious vegetables out there, and the nutritional profile is just amazing – tons of vitamins K, A, C, magnesium, iron and fiber. So come on people, eat your chard.  Alright, lecture time is over.  I'm off to stock up on organic bug spray.  Faster Cathy, Kill, Kill!
Swiss Chard with Onions, Currants and Pine Nuts
3 tablespoons pine nuts
1 tablespoon extra virgin olive oil
1 medium-large onion, quartered and thinly sliced
2 cloves garlic, minced
2 large bunches Swiss chard, washed and stemmed, leaves chopped, stems diced
3 tablespoons dried currants
1 tablespoon balsamic vinegar
Toast the pine nuts in a dry skillet over medium heat until golden, and set aside.
Heat the olive oil in a large deep skillet or dutch oven. Add the onions and cook over medium heat until very s0ft and starting to brown, about 10-12 minutes.
Add garlic and chopped chard stems, and cook until stems are tender, about 15 minutes.
Add the currants and chard leaves and cook for 3-5 minutes, until leaves are tender. Season to taste with salt and pepper. Stir in vinegar, top with pine nuts and serve.
Serves 4