Jul 30, 2010
Fresh plum cake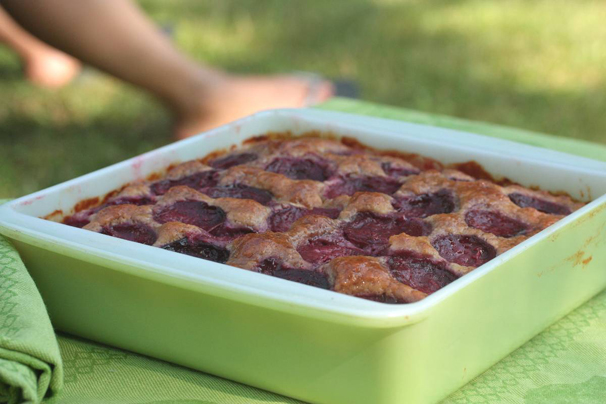 I saw a photo of a plum cake, and I just knew I had to make one.  I went hunting for recipes and found several that looked great, including this one from Eating Well and this one from Smitten Kitchen.  I did a mashup of the two, adding a hint of almond extract and cloves – and cutting down the sugar significantly, for at least a nod to nutrition!  I used tiny plums and got a lot of oohs and ahhs because of the cool pattern they created, and it worked well because there was one plum to each small piece of cake.  But you can use regular sized plums, as the Smitten Kitchen recipe does.
The great thing about this cake is the contrast in textures. Every bite combines the slightly dry (but not in a bad way) spice cake with the hit of the wet plum. Pure summer cake pleasure.
By the way, there's only a third-cup of oil in the entire recipe – proof that great cake doesn't need to be loaded with butter or other fat. So it's perfect for people like me, who love dessert but are watching their cholesterol. But trust me, you don't need to be a health nut to enjoy this.
Fresh Plum Cake
3/4 cup all purpose flour
1 cup whole wheat pastry flour
2 tablespoons cornstarch
1 ½ teaspoons baking powder
½ teaspoon baking soda
¼ teaspoon cinnamon
½ teaspoon salt
Pinch freshly ground nutmeg
Pinch ground cloves
½ cup packed brown sugar
2/3 cup nonfat plain yogurt
1/3 cup organic canola oil
1 egg
1 egg white
1 ½ teaspoon vanilla extract
1/8 teaspoon almond extract
12-13 very small plums (around 1 to 1 ½ inches diameter), halved, pitted
2 tablespoons currant or pomegranate jelly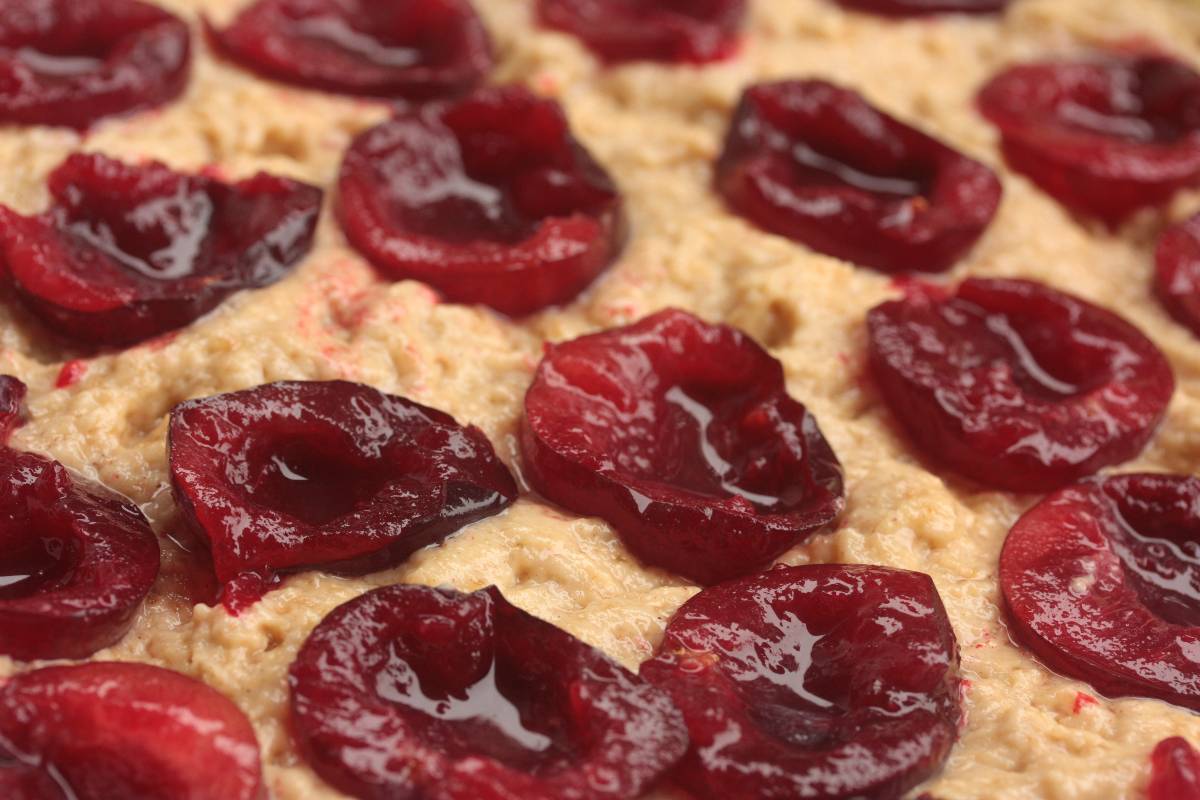 Preheat the oven to 350 degrees.
In a large bowl, thoroughly mix the dry ingredients, except sugar. In a second bowl, vigorously whisk together the sugar, yogurt, oil, egg(s), and extracts. Combine the wet and dry ingredients, stirring just until the flour mixture is incorporated.
Spray an 8×8" baking pan with oil and pour in the batter. Place the plums in rows (I did 5 rows of five plum halves each), cut side up. Push each plum very slightly into the batter. Bake for 45 minutes, or until a knife inserted in the center comes out fairly clean.
Meanwhile, heat the currant jelly in a small saucepan with 1 teaspoon of water. Brush the hot cake lightly with this glaze.  Let cool for 1 hour and serve.
Serves 8-10.