Jul 9, 2010
Authentic Smoked Seitan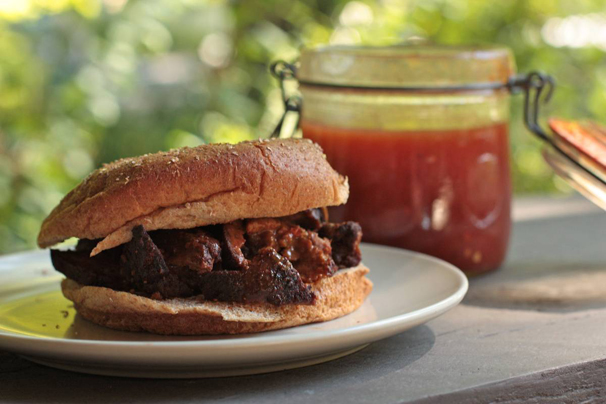 In a former life I was a barbecue fanatic.  I dragged my vegetarian husband to shacks in the middle of nowhere – from North Carolina to Mississippi – just to eat barbecue.  He happily picked at his plate of fries while I quite literally pigged out.  (No wonder I married him.)
When health concerns led me to stop eating meat, I assumed that my barbecue days were over. But with my Authentic Smoked Seitan, I've finally found a reason to fire up my smoker.
I can hear you skeptics now.  Smoked wheat gluten?  Believe it, people. This stuff looks and tastes like Texas brisket – or as close as a vegetarian version can come, anyway.  With a nice crusty exterior, it's even got the "burnt ends" of authentic barbecue. At a 4th of July party, the guests – including meat eaters – were practically clawing at each other to eat the seitan, even before it hit the table.
I used a dry rub, leaving out the salt because the seitan itself is quite salty.  For the sauce, I chose a traditional Lexington, NC vinegar sauce.  A South Carolina mustard-based sauce also works well here.  The recipe looks long and involved, but it's actually quite simple.  And if you don't have a real smoker, you can smoke right in a Weber grill.
Step 1:  Make Seitan
1 ½ cups vital wheat gluten*
¼ cup nutritional yeast flakes*
1 cup + 2 tablespoons. ice water
1/3 cup low sodium soy sauce or tamari
1 tablespoon ketchup
2 cloves garlic, finely minced
1 teaspoon lemon zest
2 teaspoons paprika
¼ teaspoon cumin
1 teaspoon freshly ground black pepper
½ teaspoon chili powder
Liquid for simmering:
10 cups extremely cold water
1/3 cups low-sodium soy sauce or tamari
Combine gluten and nutritional yeast in a large bowl. In a separate bowl, mix together water, soy sauce, ketchup, garlic, lemon zest and spices.
Pour the wet ingredients into the dry and combine. Knead dough in the bowl for about 3 minutes until you have a spongy dough (this will look and feel like the most disgusting food ever). Excess liquid will accumulate in the bottom of the bowl, and that's fine – just leave it in the bowl.  Let rest for a few minutes, then shape into a log about 7 or 8 inches long. Cut into 3 pieces.
Put the cold water and soy sauce in a large saucepan and gently put the pieces of dough in the liquid. Partially cover the pot and bring to a boil. Lower heat and simmer for one hour, turning the pieces occasionally.  Let it cool for ten minutes, then remove the seitan. As soon as it's cool enough to handle, squeeze out all the liquid you can, being careful not to break the hunks of seitan.  Wrap each piece in plastic wrap or place in a zip lock bag and refrigerate for several hours or overnight.
* Vital wheat gluten and nutritional yeast are available at any health food store or markets like Whole Foods.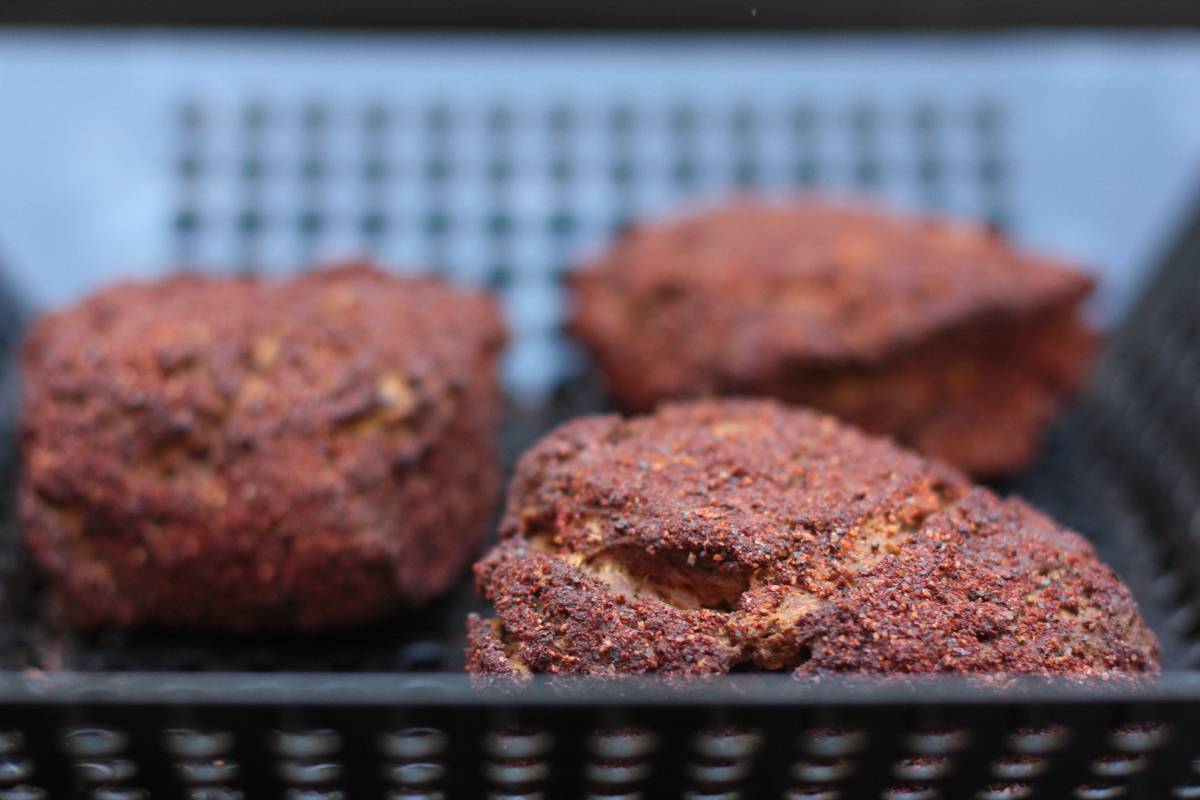 Step 2:  Rub and smoke
Dry rub:
3 T. paprika
1 T. black pepper
1 T. sugar
1 T. chili powder
2 t. garlic powder
2 t. onion powder
1 t. cayenne pepper
½ t. dry mustard powder
Start a fire in your smoker.  Soak wood chips (preferably hickory) for 45 minutes or more. Coat the seitan pieces in the dry rub mixture and put it on a grill basket or right on the grate. Throw some wood chips on the hot coals and close the  cover. Smoke for 1 ½ hours, adding more soaked wood chips occasionally.   If your smoker has a thermometer, keep the temperature at about 225.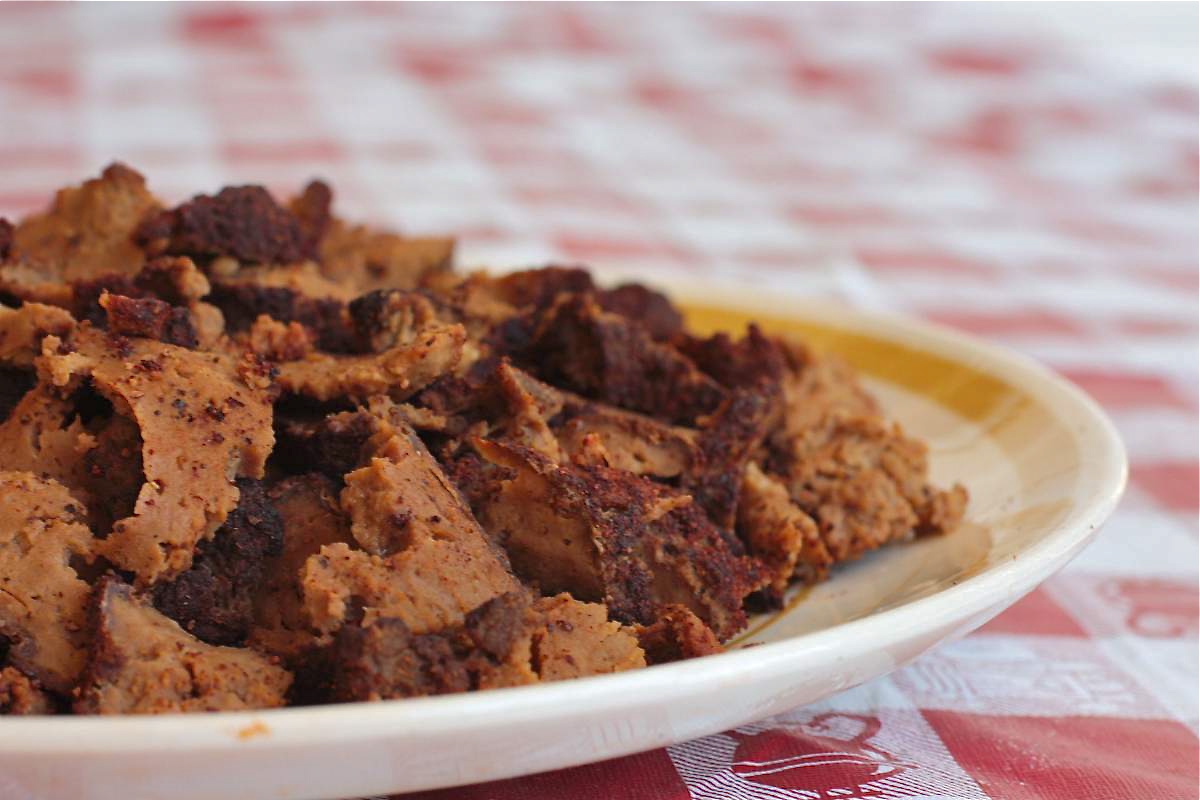 Step 3:  Sauce and eat
Barbecue sauce:
1 c. water
1 c. cider vinegar
2/3 c. ketchup
1 T. sugar
½ t. red pepper flakes
½ t. freshly ground pepper
1 t. salt
Whisk the sauce ingredients together until sugar dissolves. Let the smoked seitan cool for 5 minutes, then slice, drizzle with sauce and serve plain or on buns.  (Note: It's best served right after you smoke it – if you reheat it in an oven later, the edges will lose the crispiness.)