Jun 6, 2010
Red pepper and olive hummus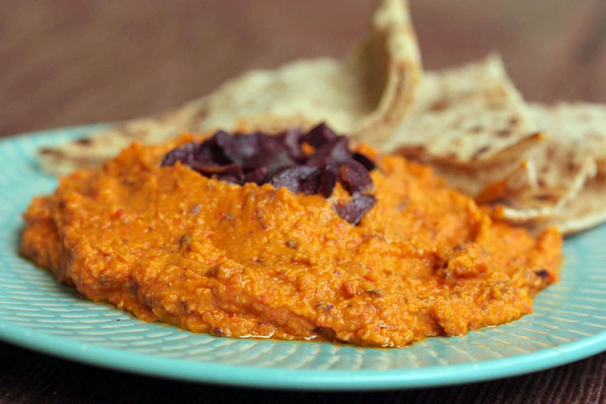 Why buy supermarket hummus when you can make homemade hummus in a few minutes with little more than a can of beans, some tahini, olive oil, lemon and garlic?
Today I revved up the flavor with roasted red peppers and kalamata olives – and because I used jarred peppers, it still took me only about 5 minutes. The roasted peppers give it a faint smokiness, and you can boost that flavor with a bit of Spanish smoked paprika.
Red Pepper and Olive Hummus
1 can chickpeas, drained and rinsed
1 roasted red bell pepper (jarred is fine, but fresh roasted is even better)
1 tablespoons extra virgin olive oil
2 tablespoons tahini
3 tablespoons lemon juice
8 pitted kalamata olives
1/2 teaspoon salt
Pinch of cayenne pepper, optional
Pinch of smoked paprika, optional
Put all ingredients in a food processor and process until smooth. To serve, drizzle the top with olive oil and additional chopped kalamatas, if desired.
Serves 4-6 as a snack