Jun 2, 2010
Oatmeal pecan pancakes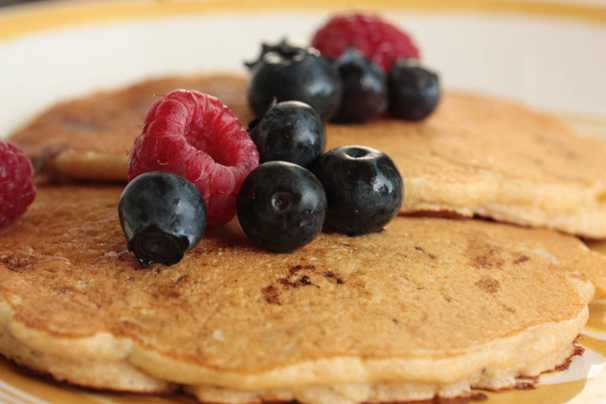 I'm on vacation this week, hanging out at the ol' country shack (or "The Farm", as my in-laws call it.)  Like a real farmer, I woke up at 6 and went out to survey my enormous vegetable garden. It was super foggy, but I could see that everything is coming along nicely. (Wondering what to cook with the ridiculous amount of  kale I'm growing!)  After playing with the dogs a bit, I decided I deserved some pancakes.
I turned to my standby recipe, "Ethereal Buttermilk Oatmeal Pancakes"  from Crescent Dragonwagon's Passionate Vegetarian. The secret is the stiffly beaten egg whites folded in at the end. For today's version, I used all whole wheat pastry flour rather than a mix of flours as Crescent suggests, and threw in some chopped pecans for crunch. I also left out one of the egg yolks, to reduce the saturated fat. Always have to look out for my damn cholesterol. (But if I get some more of the beautiful just-laid eggs from the neighbor down the road, I'm definitely going to splurge on an omelet later this week.)
Eating homemade pancakes topped with organic berries, while looking out onto the fields and listening to the birds….I really am on vacation.
Oatmeal Pecan Pancakes
4 tablespoons dried buttermilk powder (see note)
2 1/4 cups water
1 tablespoon organic canola oil
1 egg yolk
3/4 cup old fashioned rolled oats
1 cup whole wheat pastry flour
6 tablespoons chopped pecans
1/2 teaspoon salt
1 teaspoon baking powder
1/2 teaspoon baking soda
2 large egg whites
Combine the buttermilk powder, water, oats and canola oil in a medium bowl, and stir with a fork until the powder dissolves.  Set aside for 30 minutes. Add egg yolk and stir well.
Combine the dry ingredients and pecans in a large bowl, then add the buttermilk-oat mixture, stirring only until combined. In a smaller bowl with high sides, beat the egg whites until stiff. Gently fold them into the batter.
Spray a pancake griddle with cooking oil spray and heat over medium-high heat. Lower the heat to medium and drop batter onto the pan using a ladle. Cook until the bottoms are golden and bubbles appear on the top. Flip and cook for another couple minutes. Serve with real maple syrup and fresh berries.
Note: I highly recommend dried buttermilk powder, because you'll always have it on hand – and I never seem to use a whole quart of buttermilk when I buy it.  But if you want to use fresh buttermilk, just use 2 1/4 cups instead of the powder and water called for here.
Serves 4