Jun 1, 2010
Sweet and Spicy Mexican slaw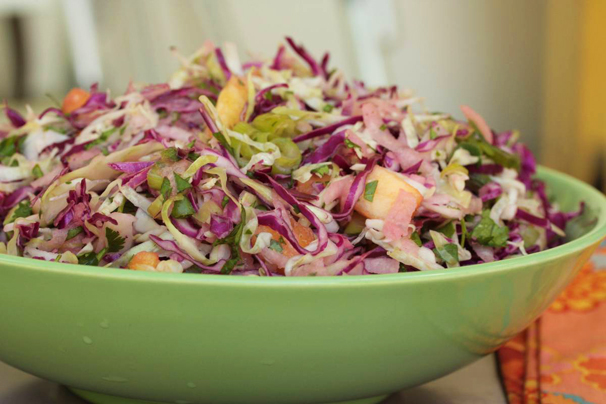 This slaw really has that sweet/sour/spicy thing going on.  It's not only a great taco topper, it's a great side dish on its own.  Certainly more interesting than your standard-issue coleslaw. And way better for you, since there's no artery-clogging mayo.  Plus, it will look stunningly pretty on the table for your next summer barbecue.
I recommend eating the slaw the same day it's made. It loses a little after being refrigerated overnight.
Sweet and Spicy Mexican Slaw
1/2 small red cabbage, very thinly sliced
1/2 small green cabbage, very thinly sliced
1 cup grated jicama (use large holes on a box grater)
2 serrano peppers, or one jalapeno, minced (more to taste)
4 scallions, sliced
3 tablespoons lime juice
1 tablespoon brown rice vinegar, or apple cider vinegar
1/2 cup diced fresh pineapple
1/2  cup chopped cilantro
pinch cumin
1/4 teaspoon salt
Black pepper to taste
Mix all ingredients and you're done.
Serves 8