Jun 21, 2010
Corn and fava bean salad with mint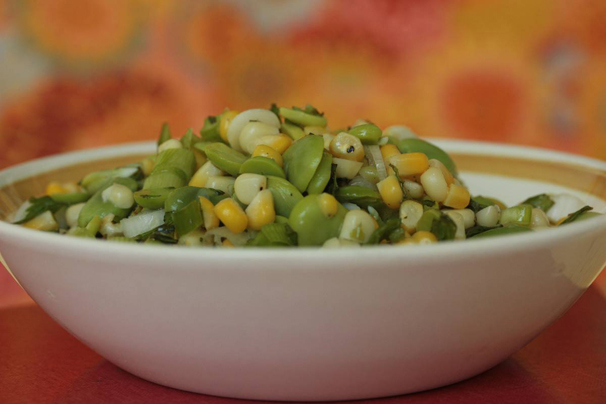 As much as I shop at farmer's markets, I guess I'm not cut out to be a strict locavore. I just couldn't wait until New York State's corn season, so I bought some from Georgia. And I don't regret it, because with those trucked-in ears I made two lovely corn salads this weekend.
Today I'll share a delicate corn and fava bean salad that tastes like the moment spring melts into summer. The fresh mint came from my back yard – it doesn't get any more local than that.
Shelling and peeling the favas takes a little time … but their buttery flavor is totally worth the effort. This salad would be equally good with fresh peas instead of corn, so you might want to give that a whirl, too.
Corn and Fava Bean Salad with Mint
1 1/2 pounds fresh fava beans
Kernels from 1 medium ear of corn (3/4 – 1 cup)
3 scallions, white and light green parts sliced
1 tablespoon chopped fresh mint
1 tablespoon extra virgin olive oil
1 tablespoon fresh lemon juice
Pinch salt
Freshly ground black pepper
Shell the beans – you will have about a scant cup.
Bring a pot of water to a boil. Add the beans, cook for 2-2 minutes and drain. Rinse with cold water. Slip the beans out of their skin. This is easy if you tear a bit off the end and then squeeze lightly.
Bring a smaller pan of water to a boil. Add the corn kernels and blanch for 1 minute (or a bit less if you have corn with very tender, small kernels.)
Place the beans and corn in a bowl with the scallions and mint. Pour on the olive oil, lemon juice, salt and a bit of pepper. You can add extra lemon or mint to taste, but be judicious – you want to mostly taste the essence of the beans and corn. Stir to combine, and serve at room temperature.
Serves 2-3