Jun 28, 2010
Cantaloupe salad with Thai basil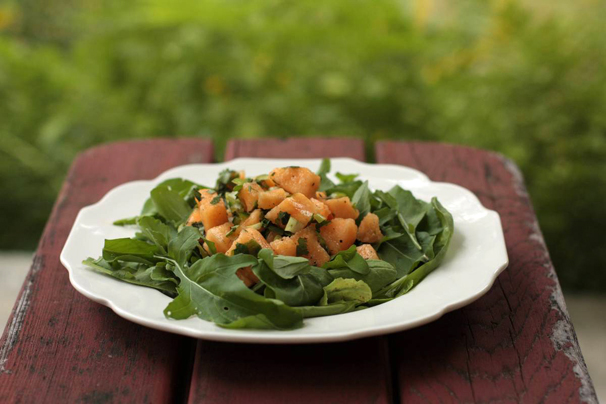 After last week's cookie orgy, I needed something light, to say the least. I had a beautiful ripe cantaloupe in the fridge, plus a bushy Thai basil plant and arugula that was about to go to seed in the garden. What better time to try Deborah Madison's Melon Salad with Thai Basil, from her book Local Flavors
?
I changed only a couple of things from her recipe.  First, I left out the garlic, because it seemed like it might be overpowering with melon. I didn't have a shallot, so I substituted a scallion. And let me tell you, this salad had a major wow factor going on. The sweet melon combined with the hot pepper and the bitter arugula – oh my.  Be sure to seek out some Thai basil – or even better, grow some. The incredible flavor is worth going out of your way for.  You get bonus points if your arugula has insect holes in it like mine does (look closely, you'll see 'em).
Cantaloupe Salad with Thai Basil
1 scallion, finely diced
juice and zest of 2 limes
salt and pepper
3/4 cup cilantro leaves, chopped finely
1/3 cup Thai basil leaves, chopped finely
¼ cup mint leaves, chopped finely
1 jalapeño or serrano chile, finely minced
1 t. minced fresh ginger
1 tablespoon extra virgin olive oil
One cantaloupe (2 to 2.5 lbs.), chopped into cubes
1 bunch arugula
Salt and pepper to taste
Put the scallion, lime juice, zest, herbs, chile, ginger, garlic, and oil in a bowl. Combine well and add salt and pepper to taste. Gently mix in the melon, and serve on a bed of greens.
Serves 2-4