May 17, 2010
Tangy quinoa salad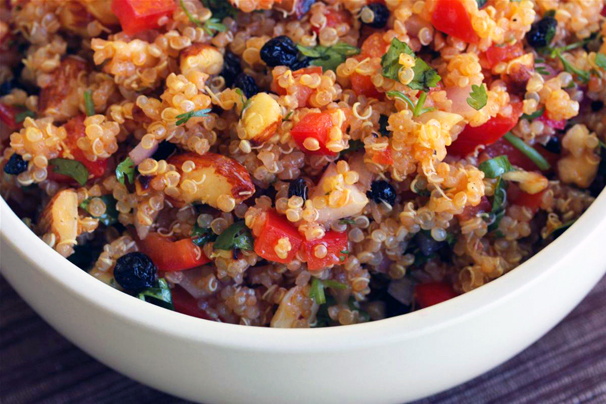 I don't know why anyone would make boring old pasta salad when they could make quinoa salad.  This tiny grain has a subtle nutty flavor, and is a completeprotein with a perfect balance of all nine essential amino acids. Nirvana for non-meat eaters.
For this particular quinoa salad, I was envisioning something on the tart side. But when I tasted my experiment, I thought I'd gone way overboard with the lime juice.  In an attempt to tone it down, I threw in some currants. And what do you know, I had created the perfect balance. It's sweet, sour, nutty and crunchy – what more do you want in a salad?
Tangy Quinoa Salad
2 teaspoons olive or canola oil
1 cup quinoa (well-rinsed, unless you have the pre-rinsed variety)
1/4 teaspoon ground cumin
1/4 teaspoon ground coriander
1/2 teaspoon paprika
1 3/4 cups water
1 clove garlic, minced
1/4 cup lime juice
1/3 cup chopped cilantro
1 teaspoon sugar
1/4 teaspoon salt
1/3 cup extra virgin olive oil
1/2 cup diced red onion
1 small red bell pepper, diced
1/2 cup chopped almonds, toasted
3 tablespoons dried currants
Heat 2 teaspoons of oil in a saucepan. Add quinoa and spices. Cook over medium heat, stirring constantly for 2-3 minutes, until quinoa smells toasty. Add the water and bring to a boil, then reduce heat, cover and simmer for 15-20 minutes or until the water is absorbed and the quinoa is tender but still a bit crunchy. Spread on a baking sheet to cool.
Combine the garlic, lime juice, cilantro, sugar and salt in a large bowl. Gradually whisk in the oil. Add the quinoa, onion, peppers, almonds and currants and mix well. Season with additional salt to taste.
Serves 4