May 11, 2010
Stuffed collard rolls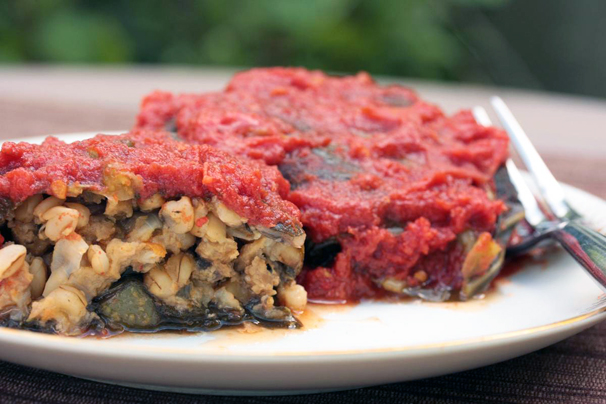 I have a soft spot for Eastern European food, and stuffed cabbage was always one of my favorites. It's homey and filling – the very definition of comfort food.  I've had vegetarian versions, but they were on the bland side. So I swapped out cabbage for collard greens, which have a bit more flavor.  Then I made a filling that combines the chewiness of hulled barley, the crunch of almonds and the meatiness of both mushrooms and seitan. And topped the collard rolls with a lemony sweet and sour tomato sauce.  These would be really good served with mashed potatoes, but that would really be carbo-loading, so you didn't hear that suggestion from me, ok?
Stuffed Collard Rolls
3/4 cup hulled barley
2 1/4 cup vegetable broth or water
2 tablespoons extra virgin olive oil
1 carrot, grated
2 medium onions, diced
2 cloves garlic, minced
8 ounces mushrooms, chopped
1/2 cup slivered almonds, chopped
1/3 cup chopped parsley
1 8-ounce package seitan, cut into very small pieces (best done by pulsing in a food processor)
1/2 teaspoon salt
Black pepper to taste
1 cup fresh whole wheat bread crumbs (again, use a food processor)
1 egg, lightly beaten
1 28-ounce can whole tomatoes, chopped or squeezed with your hands
1 28-ounce can crushed tomatoes in puree
1/3 cup lemon juice
1/4 cup dark brown sugar
1/4 teaspoon salt
10 large collard green leaves
Put the barley in a saucepan with the broth or water. Bring to a boil, cover and simmer for about 1 hour. The grain will still be very chewy (hulled barley is always chewier than the pearled variety.) Drain off any excess liquid and set aside.
Heat the olive oil in a large skillet. Add the onions, garlic and carrot and saute for 5 minutes. Add the mushrooms and almonds and saute 3-4 more minutes. Add the parsley, seitan, salt and a generous amount of pepper. Place this mixture in a large bowl. Stir in the cooked barley, bread crumbs and egg, mixing well.
To make the sauce, combine the tomatoes, lemon juice, sugar and salt, and bring to a boil. Set aside.
Bring a large pot of water to a boil and add the collard leaves, blanching for 3 minutes. Drain carefully and lay the leaves out on kitchen towels or on cutting boards. Cut a V in the end of each leaf to remove the thickest part of the stem.
Heat the oven to 350 degrees.
Place 1/2 c. filling in the middle of each leaf. Fold the sides over, then the stem end, then roll it over the other end to close the roll. Place 3 cups sauce in the bottom of a large glass or ceramic baking dish. Add the collard rolls in a single layer and top with 3 more cups of sauce. Cover with foil and bake for 75 minutes.
Serves 5.