May 24, 2010
Seitan vindaloo
I was uncharacteristically spontaneous today. I had planned to make a simple dish of curried beans and sweet potatoes, but had a sudden craving for something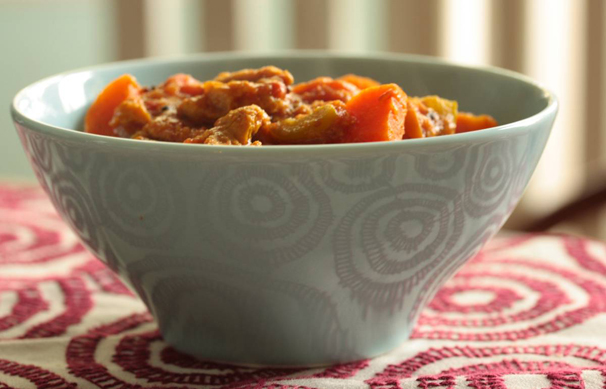 spicy, and switched my plan entirely.  I spied  a package of seitan in the fridge, so I made up a spur-of-the-moment seitan vindaloo.  (I used the beans and sweet potatoes for a delicious salad – stay tuned for that in the next day or two.)
Vindaloo is an Indian dish from the Goa region, and is known for being fiery hot.  It's usually made with chicken or lamb, but seitan makes a great stand-in and really absorbs the flavors of the vindaloo paste. My vegan version is heart healthy, with only a tablespoon of oil in the whole pot. The vinegar and lemon juice give it a major tang factor.  I used green peppers and carrots, but next time I may add potatoes, which are ubiquitous in restaurant versions of vindaloo.  By the way, did you know that vindaloo was originally brought to Goa by the Portugese?  Neither did I (thanks, Wikipedia!)
Seitan Vindaloo
1 small onion
3 fresh hot peppers (preferably serrano), halved and seeded
1-inch piece of ginger, peeled and cut into chunks
4 cloves garlic
1/4 cup vinegar (cider or white wine)
2 dried hot red chiles, soaked in water for 15 minutes (omit if you don't like spicy food)
1 teaspoon turmeric
1 teaspoon ground cumin
1 teaspoon ground coriander
1/4 teaspoon freshly ground black pepper
1/4 teaspoon cayenne pepper
1 tablespoon canola oil
1 teaspoon black mustard seeds
1-inch piece cinnamon stick
5 cardamom pods
1 large or 2 medium carrots, chopped (about 2/3 c.)
1 green bell pepper, chopped
1 8-ounce package seitan, drained and cut into bite-size pieces
1 15 ounce can diced tomatoes, undrained
1/2 cup water
1 teaspoon lemon juice
1 teaspoon sugar
1/2 teaspoon salt
To make the vindaloo paste, put the first 11 ingredients (through the cayenne pepper) in a food processor and process until smooth.
Heat the oil in a large skillet or dutch oven. Add the mustard seeds, cinnamon and cardamom pods and cook for 1 minute or until the mustard seeds pop. Add carrots, green peppers and seitan, and cook over medium heat for 3 minutes, stirring constantly. Add your vindaloo paste and cook, stirring, for 10 minutes. Add the tomatoes, 1/2 c. water. lemon juice, sugar and salt. Cover, reduce heat and simmer for 30 minutes or until carrots are tender. (Add another 1/4 c. water if the mixture gets too dry.)
Note: if you happen to see any of the cardamom seeds in the finished dish, take them out.  It's kind of a drag to bite into them.
Serves 3 as a main dish, or 6 as a side