May 6, 2010
Moroccan vegetable and chickpea stew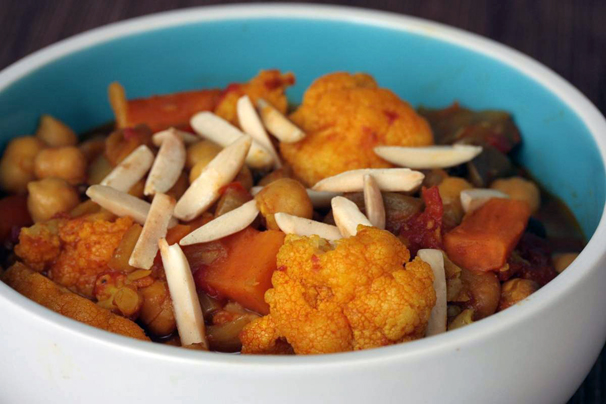 I love the warm spices in this satisfying stew – cumin, coriander and a touch of cinnamon.  And the contrast of the sweet raisins and the spicy harissa condiment rocks my world.  Eggplant isn't a traditional vegetable for this dish, but it's one of those slimy foods (along with oatmeal and okra) that contain soluble fiber, which lowers cholesterol.  Oh, and it's delicious.  This is definitely going to become one of my go-to recipes – I could eat it for days on end.  In fact, I just did.
Moroccan Vegetable and Chickpea Stew
2 tablespoons extra virgin olive oil
2 cup chopped onions
3 cloves garlic, minced
1 carrot, cut into 1/2 inch half-moons
1/2 head cauliflower, cut into florets
1 large or 2 small sweet potatoes, peeled and cubed
1 medium eggplant, peeled and cubed (about 3 cups)
1 teaspoon turmeric
1 teaspoon coriander
1/2 teaspoon salt
1/4 teaspoon cayenne pepper
1 teaspoon paprika
pinch cinnamon
1 15-ounce can diced tomatoes, undrained
1/2 cup raisins
2 cups vegetable broth (use gluten-free broth if you are gluten-sensitive)
2 cans chickpeas, drained and rinsed (recommend Eden brand – bpa-free cans)
1/2 cup slivered almonds, toasted
Harissa, purchased or homemade
Whole wheat couscous (or rice if you are gluten-sensitive)
Heat the oil in a dutch oven. Add the onions and saute for 5 minutes. Add garlic, spices and salt and cook for 2 minutes more. Add all of the vegetables and stir to coat.  Add tomatoes, raisins, broth and chickpeas. Bring to a boil, reduce heat and simmer for 30 minutes, partially covered.  Add a bit of extra broth if the stew gets too dry. (It will need more if the stew sits and thickens after you cook it.)
Serve the stew on whole wheat couscous, topped with the toasted almonds and a dab of harissa.
Serves 4-6