May 3, 2010
Egg white frittata with ramps and asparagus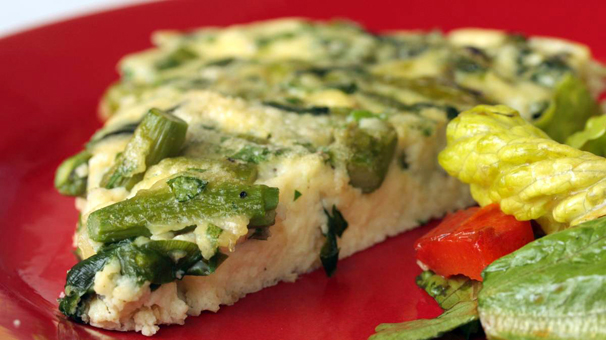 Who says a frittata has to be loaded with fat?  This version is made mostly with egg whites, along with ramps and asparagus – a classic spring combination.  If you've never had ramps, a type of wild onion, then get yourself to the nearest farmer's market this week, because ramp season is exceedingly short.  Of course, if you can't find ramps, scallions make a a perfectly fine substitution. When I made this frittata, I used six egg whites and one whole egg, and although it was delicious, it was a little flat (see the photo.)  So I'm recommending eight whites in the final recipe. Or, if your cholesterol can take it (lucky you!) add a few extra  yolks.
Baked Egg White Frittata with Ramps and Asparagus
8 egg whites
1 whole egg
1/2 cup fat-free ricotta cheese
1 tablespoon chopped flat-leaf parsley
1/8 teaspoon salt
Freshly ground black pepper to taste
1 tablespoon extra virgin olive oil
1/2 pound asparagus, tough ends snapped off, stalks cut into 1/2-inch pieces
6-8 ramps, chopped (or use 5 scallions)
Heat the oven to 350 degrees.
Heat the oil in a large skillet. Add the ramps and asparagus and saute until just tender, about 3-4 minutes.
Whisk together the egg whites, egg, ricotta cheese, salt and pepper.
Spray a 9″ pie pan with cooking oil spray.  Place the ramps and asparagus in the pie pan, then pour the egg mixture on top.  Bake until just firm to the touch in the center, about 20-25 minutes.
Serves 4-6