May 26, 2010
Black bean and sweet potato salad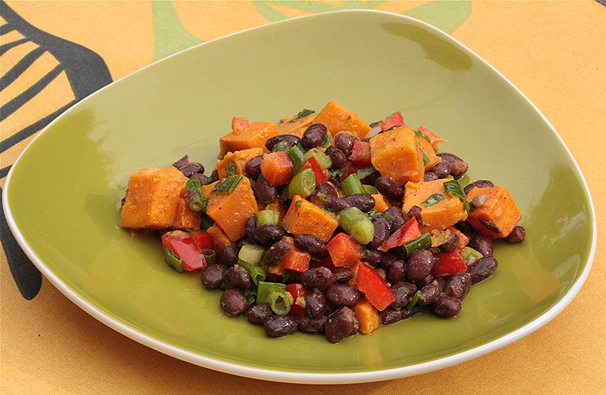 I seem to be on a roll with salads these days.  Which is odd, because I'm generally not the most creative salad person. But between last week's amazing quinoa salad and this one, I'm feeling like the Salad Queen. (Is there such a thing as a salad queen? There should be.)
Nutritionally, you can't go wrong with black beans and sweet potatoes. In addition to being packed with fiber and protein, black beans are super high in flavonoids, just like blueberries, cranberries and red wine. So you're getting  your fill of antioxidants. And of course, the sweet potatoes have similar antioxidant benefits, along with beta-carotene and vitamin C.
And most importantly, the beans and sweet potatoes taste terrific together. Especially when combined with a zesty lime-basil dressing. This is going to be on our brown bag lunch rotation for sure.
Black Bean and Sweet Potato Salad
1 very large sweet potato, peeled and cubed (about 3 cups)
2 teaspoons olive oil
1 can black beans, drained and rinsed (I recommend Eden brand – no BPA in the cans)
4-5 scallions, sliced
1/2 large red bell pepper, diced
Juice and zest of 1 lime
1 teaspoon dijon mustard (use gluten-free mustard if you are gluten-sensitive)
1/4 cup olive oil
2 tablespoons chopped fresh basil (or substitute cilantro)
1 tablespoon chopped flat-leaf parsley
salt
Freshly ground black pepper
Heat the oven to 375 degrees.
Toss the sweet potatoes with 2 teaspoons oil and season with salt and pepper. Spread on a large baking sheet and roast for 20-30 minutes, turning once halfway through, until potatoes are tender. Put the roasted potatoes in a large bowl with the black beans, scallions and red pepper.
In a separate bowl, mix the lime juice, zest, mustard and herbs. Gradually whisk in the olive oil. Add this dressing to the bean-potato mixture and gently mix.  Season with salt, pepper and additional lime juice to taste.
Serves 4