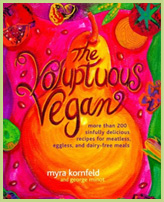 Hey, don't ignore this book because it's vegan or because of the hippie-ish cover art. Myra Kornfeld's The Voluptuous Vegan: More Than 200 Sinfully Delicious Recipes for Meatless, Eggless, and Dairy-Free Meals
is a kickass cookbook. The best thing I tried was the pumpkin, sage and pecan ravioli with a white bean sauce (although I used a regular homemade pasta recipe instead of her eggless version with dried red chiles – but that could be interesting, too.) I love her lush, hearty dishes, like Seitan Pot Pie, Chili Corn Biscuit Casserole African Groundnut Stew and Tempeh Shepherd's Pie. Next I'm going to tackle her Moussaka and the Tamales filled with Seitan Picadillo. Some people might be turned off by the long list of ingredients for some dishes – this is not "Real Simple" style food. But in most cases, the extra effort is well worth it.
Dessert-wise, I have eaten (way) more than my share of the Date Pecan Coffee Cake and Apple Walnut Crisp. The Peanut Butter Mousse Cake keeps calling out to me, too. The only thing in the entire book that my cardiologist might not approve of is the pie crust made with coconut oil. It's probably delicious, but with my stupid cholesterol problems, I can't risk buying into the coconut oil hype. The stuff is crazy high in saturated fat, but some claim it's a good fat. Care to weigh in, Dr. Steinbaum?