Apr 26, 2010
Roasted asparagus and leek soup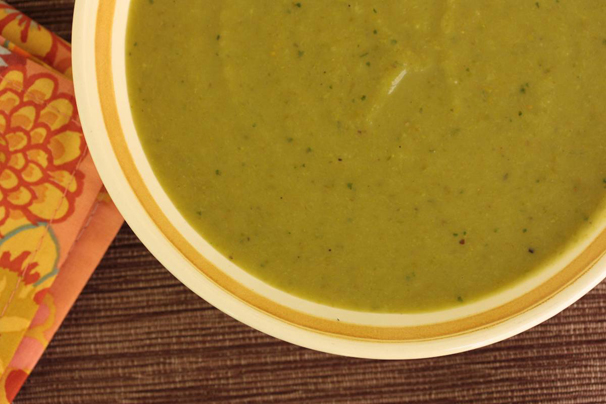 I can't stop by the farmer's market these days without picking up some asparagus. It's absolutely irresistible.  This weekend, I had to get creative to use up the three pounds I hauled home!  I also had some leeks on hand, so I decided to roast them together and create a very simple soup. Light and lemony, it's the essence of springtime. Add some homemade whole wheat croutons for a slightly heartier meal.  I also whipped up an asparagus and ramp frittata, so watch out for that recipe in the next day or two.
Note: while I often use a food processor to puree soups, in this case, a blender works much better –  you want a nice velvety texture here that can't be achieved with a food processor (well, with my crappy one, anyway.)
Roasted Asparagus and Leek Soup
2 pounds asparagus, tough ends snapped off, cut into 2-inch pieces
2 cups chopped leeks (white and light green parts only)
2 tablespoons extra virgin olive oil
3 tablespoons minced flat-leaf parsley
2 teaspoons freshly grated lemon zest
3 to 4 cups vegetable broth (use gluten-free broth if you are gluten-sensitive)
3/4 cups fat-free milk (or soy milk for a vegan soup)
Salt and pepper to taste
Heat the oven to 425 degrees.
Toss the asparagus and leeks with the oil and spread in a single layer on a rimmed baking sheet. Sprinkle with a little salt and pepper. Roast until the vegetables are soft and golden, about 35 minutes.
Place them in a blender with the remaining ingredients (starting with 3 cups of broth and adding more as needed) and process until very smooth. Season with salt and pepper to taste, and gently reheat.
Serves 4