Apr 21, 2010
Light, sweet and spicy guacamole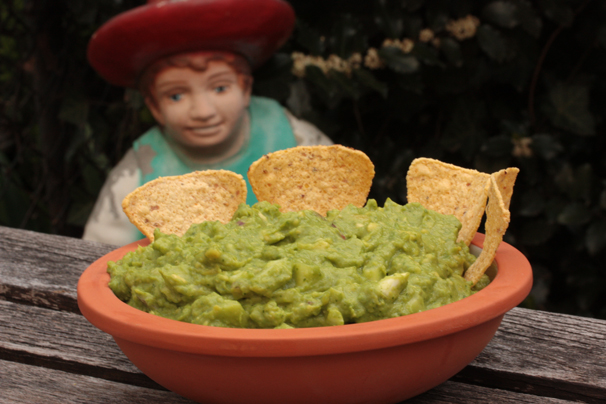 Avocados are loaded with heart-healthy "good fat," plus omega fatty acids, which are said to reduce heart disease risk.  However, they are quite high in calories,so with the amount I tend to eat, it's probably too much of a good thing. I had heard of adding peas to guacamole to lighten it, but being a purist when it comes to guacamole, the idea always rubbed me the wrong way.  But today I figured, if I'm throwing tradition out the window, I might as well throw it all the way out.  So in addition to the peas, I added cucumber and mango, plus some nonfat  yogurt and tomatillo salsa to lighten it further.  While this stuff doesn't have the same dense richness of regular guacamole, it's pretty damn good in its own right.  And if you're like me, you won't feel quite as guilty eating a whole heap of it.
Oh, and wondering who the little sombrero-clad boy is in the photo?  He had always lived in the yard behind the house next door to us. Then one day the two little old ladies who lived there (sisters – but not nuns like our other neighbors) went into a nursing home together.  When the house was sold – with all its contents – the new owners had no use for this kitschy vintage garden statue. He even came with a little wagon.  Score!
Light, Sweet and Spicy Guacamole
1 cup frozen peas, thawed
3 cloves garlic, roughly chopped
1/2 cup (lightly packed) cilantro leaves
1 lime, halved
3 fresh jalapeno peppers, chopped – or more to taste
3 ripe medium Haas avocados
1/2 teaspoon salt
1/2 teaspoon ground cumin
1/3 cup fat-free plain yogurt, or nonfat sour cream  (vegans, substitute soy yogurt)
1/2 cup prepared green tomatillo salsa
1 small red onion, minced
1/2 large cucumber, peeled, seeded and diced
1/2 cup diced fresh mango
Put the peas, garlic, jalapeno, cilantro and the juice of half a lime in a food processor and process until smooth.
Mash the avocado with a fork or potato masher. Add the pea mixture, salt, cumin, yogurt and salsa, and stir well. Mix in the onion, mango and cucumber.
Taste and add the other half of the lime juice if needed (if your salsa was very acidic, it may not be necessary.)   Serve with baked tortilla chips, of course.