Apr 7, 2010
Fresh raspberry muffins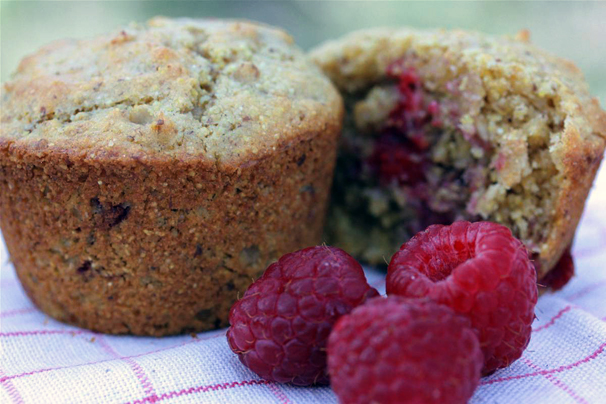 Confession: I ate three of these muffins in a day.  My friend Francine ate three, too, but she was breaking her back raking leaves all day, while I just cooked.I kept justifying it by telling myself they were full of healthy stuff: whole grains, raspberries, even some flax.  But I know it's not good to eat three muffins, no matter how virtuous they are.  So I will run an extra couple miles this week to atone for my sins.  End of confession.
These muffins are slightly crunchy because of the cornmeal, fresh tasting from the raspberries and just a bit sweet thanks to maple syrup. Around midnight, you'll find yourself wanting another one. Make them for yourself, and please let me know if you are a better person than I am.
I used a recipe from the surprisingly good Mayo Clinic Cookbook as a departure point, giving it my own twist by using whole wheat pastry flour, maple syrup and flax meal.
Fresh Raspberry Muffins
1/2 c. rolled oats
1 c. soy milk
1 c. whole wheat pastry flour
1/2 c. stone-ground cornmeal
1 T. ground flax seed (flax meal)
1 T. baking powder
1/4 t. salt
1/2 c. maple syrup
4 T. canola oil
1 t. lemon zest
1 egg
1 c. fresh raspberries
Preheat the oven to 400 degrees. Spray a metal muffin tin with cooking oil spray.
Combine the oats and soy milk in a small bowl, microwave for 3 minutes, and set aside. Mix the dry ingredients in one bowl, and whisk the maple syrup, oil, lemon zest and egg in another. Combine the wet and dry ingredients, along with the cooked oats, and stir just until mixed. Fold in the raspberries.
Spoon the batter into the muffin tin, filling each 2/3 full (you will have about 9 or 10 muffins.) Bake for 16-17 minutes, until a knife inserted into the center comes out clean.