Apr 17, 2010
French green lentil salad with roasted vegetables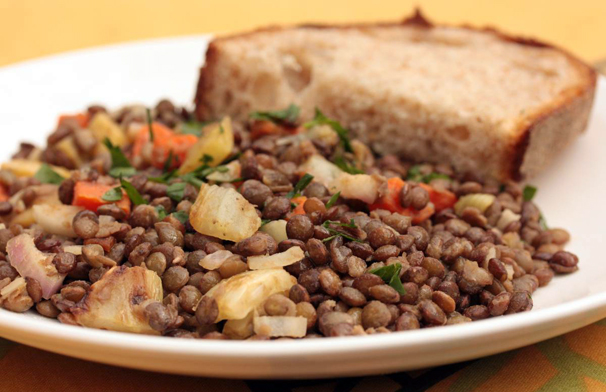 I adapted this from David Lebovitz's recipe, adding roasted root vegetables and parsley, and pumping up the flavor with more shallots, vinegar and mustard. I didn't use authentic lentils du puy as David suggested, but only because I was too lazy to go hunt them down today. It's great even with regular French green lentils, as I used here.  The sweetness of the roasted root vegetables is a perfect counterpoint to the vinegary dressing.
My husband has been bugging me to make green lentil salad for five years. I don't know why I resisted, but hey, he could have made it himself, right?  (He claims he did once, but I have no memory of such an occurrence.) In any case, Tim, this one's for you. And now that I know how good it is, I promise to make it often. Next time. I'm going to try adding toasted walnuts and some lemon zest.
[UPDATE: This is best served warm or at room temperature, on the day it's made. The lentils really absorb the dressing when refrigerated, so if you plan to eat it leftover, you might want to make a little extra dressing to add after it comes back to room temp.]
French Green Lentil Salad with Roasted Vegetables
2 cups French green lentils, rinsed
¼ teaspoon salt
2 bay leaves
1 small fennel bulb, cut into 1/4″ dice
1 large carrot, cut into 1/4″ dice
2 medium parsnips, cut into 1/4″ dice
¼ cup + 1 tablespoon extra virgin olive oil
2 tablespoons red wine vinegar (make sure your vinegar is gluten-free if you are gluten-sensitive)
½ teaspoon Dijon mustard (use gluten free mustard if you are gluten-sensitive)
1 large shallot, finely minced
1 tablespoon chopped flat-leaf parsley
Place the lentils in a saucepan with water to cover by 3 inches, along with the bay leaves. Bring to a boil add ½ t. salt. Reduce heat and simmer for 20-25 minutes, or until just tender.  Drain and set aside.
Heat the oven to 400 degrees.
Combine the diced vegetables with 1 T. olive oil.  Spread on a large baking sheet and roast for 12-15 minutes, until a bit browned but not mushy.
In a large bowl, whisk together the olive oil, red wine vinegar and mustard. Add the shallot. Combine the dressing, lentils, roasted vegetables and parsley. Season to taste with salt and pepper.
Serves 6-8 as a side dish