Apr 18, 2010
Decadent lowfat brownies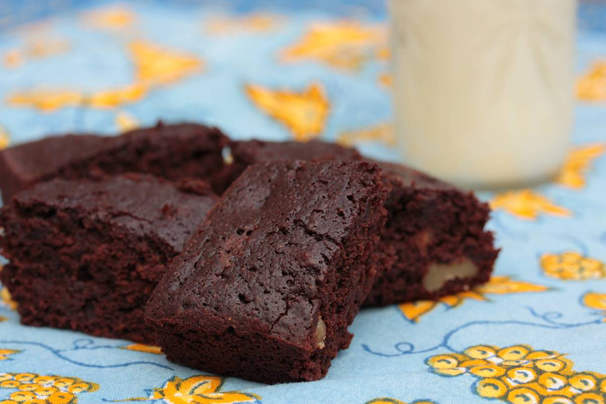 I wanted a brownie, I craved a brownie, I had to have a brownie. There was just no way around it.  Of course, as someone with heart disease I can't eat the kind of brownies I used to – the kind with a stick of butter in every batch.  But my brownie standards remain extremely high, so dry, fat-free brownies are not going to cut it, either.  So I developed this recipe as a way to satisfy my cravings without lowering the bar on flavor or texture. With bittersweet chocolate as well as cocoa, plus an egg and walnuts, they are plenty rich, yet miraculously butter-less. They contain just two tablespoons of oil, and are made with whole wheat pastry flour. I don't think anyone used to "regular" brownies would ever know the difference – they're really that good.
When these brownies first come out of the oven they are a bit on the cake-y side, but the next day become pretty fudgy.  So if you can manage to wait to eat them, you'll be happy you did.
Decadent Lowfat Brownies
2 ounces bittersweet chocolate (I used a Ghirardelli 70% baking bar)
2 tablespoons water
1/2 cup unsweetened applesauce
1 egg + 2 egg whites
2 teaspoons vanilla
1/2 cup sugar
1/2 cup brown sugar
2 tablespoons canola oil
1/2 cup whole wheat pastry flour
1/2 cup cocoa powder
1/2 teaspoon baking powder
1/4 teaspoon salt
1/2 cup chopped walnuts
Preheat the oven to 350 degrees.
In a small saucepan, heat the chocolate and water on very low heat, stirring until melted. Stir in the applesauce.  In a bowl, vigorously whisk together the egg and egg whites, vanilla, sugars and canola oil. Stir in the chocolate mixture. Add the dry ingredients and mix briefly. Fold in the walnuts.
Spray an 8×8″ metal baking pan with oil.  Spread the batter in the pan and bake for 25 minutes. Cool completely before cutting into squares.
Serves 8