Mar 26, 2010
Vegan thumbprint cookies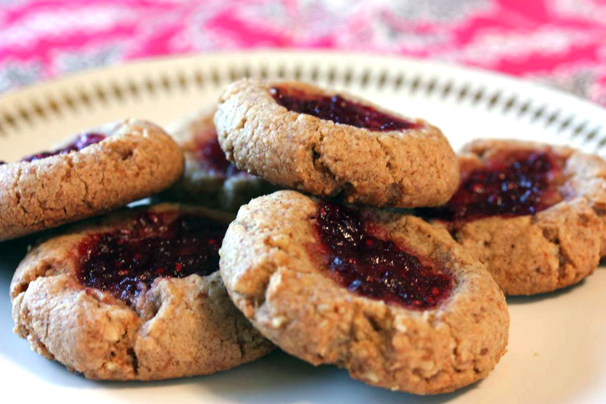 In case you haven't noticed yet, sugar is my vice.  At least I try to make sure my sugar fixes are made with heart-healthy monounsaturated fats instead of butter or shortening.  And with that preamble, I will admit it: these cookies are quite high in both sugar and fat.  Trust me, I deserve both today – and I'm sure you do, too.
I've seen a few versions of this jam-topped cookie floating around, but I like the one I've devised because my addition of almond butter gives them the dry crumbly texture of a peanut butter cookie.  Of course, you can go all the way and substitute peanut butter for the almond butter – giving you a true PB&J cookie.
Vegan Thumbprint Cookies
1 c. finely ground walnuts
1 c. whole wheat pastry flour
1 c. oat flour
1/3 c. brown sugar
1/2 t. cinnamon
1/4 t. salt
2 t. baking powder
1/3 c. maple syrup
1 t. vanilla
1/2 c. organic canola oil or high-oleic safflower oil
2 T. almond butter
3-4 T. raspberry jam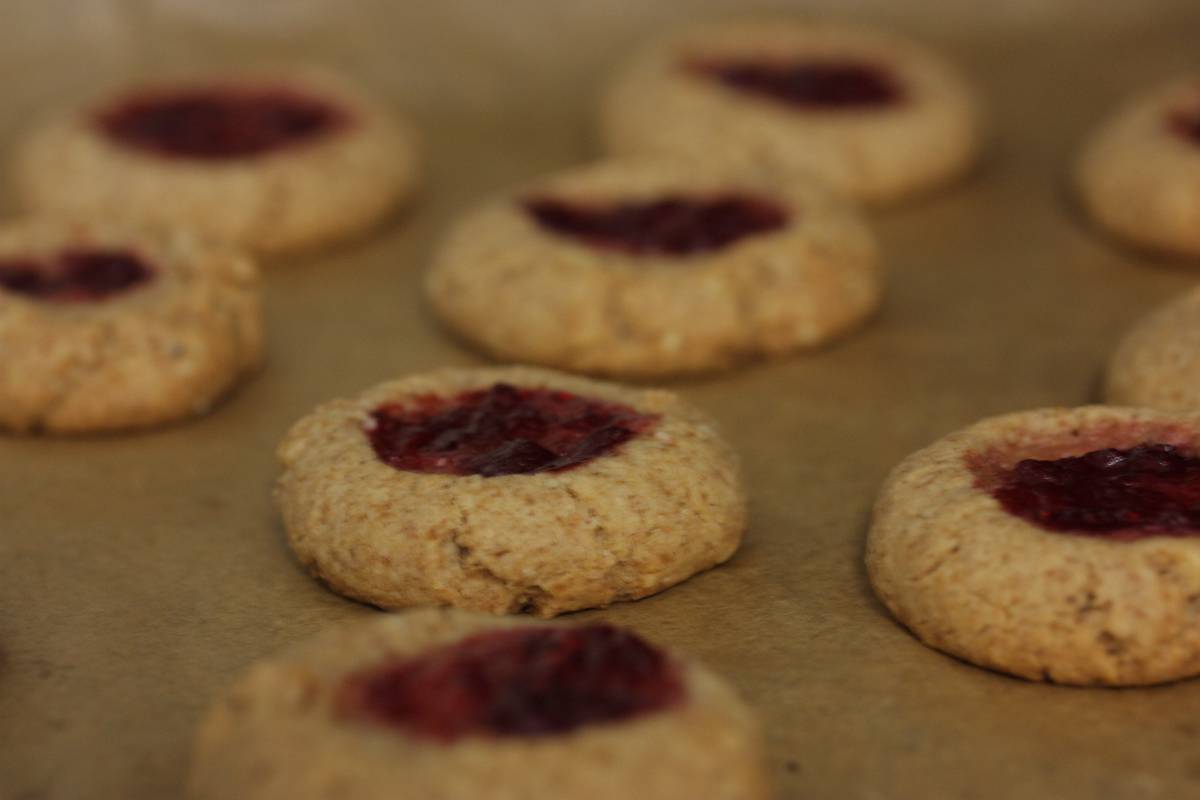 Preheat oven to 350. Mix the dry ingredients in a bowl.  Mix the maple syrup, vanilla, oil and almond butter in a separate bowl, then mix with the flour mixture just until combined.  Form into balls about 1 1/4 inches in diameter and place on a cookie sheet covered in parchment paper (you can put them quite close together – they don't spread much.) Make an indentation in each using your thumb and fill with about 1/4 t. jam. Bake for 16 minutes, until they start to turn slightly golden on the edges.